Reading Time:
13
minutes
In recent work culture, overtime, remote work facilities, and travelling are very common. So, keeping track of employee performance and maintaining higher productivity becomes a challenge for organizations.
Workforce Management system solution is the one -stop solution for it. It helps employers to track the employee performance easily for a better productivity.
It includes advanced features like labour forecasting, employee scheduling, time and attendance tracking, rule and policy management, performance tracking, payroll tracking, that ensures data accuracy and safety.
Companies can allow employees to work remotely or create a flexible office environment easily. Moreover, The WFM has the excellent features that can improve the entire HR processes as well. By integrating the WFM solution organisation can solely focus on growth and avoid other distraction.
In this guide, we are sharing what is WFM (workforce management)? why should we use the workforce management software instead of managing manually? And what are the features of the best workforce management software and more.
We've also made a helpful list of the best payroll software in India. This list includes details about each software's features and pricing. You can find all this information in our article.
What Is WFM (Workforce Management)?
How a company manages its workplace for optimum productivity at every time is known as WFM (Workforce Management). It involves a range of activities like recruitment, training, performance evolution, employee and company benefit and productivity, etc.
Proper Workforce management ensures the right numbers of employees with the right skills on desired field. It provides accurate information on employee skill and work abilities, productivity, monitoring trends on workforce, tracking hours worked each day/week etc that leads to minimize labour costs and higher productivity.
Subscribing best workforce management software application also ensures specific strategies like identify areas for improvement, change of labour management strategies, upgrading communication management solution among employees, supervisors/managers, representatives/negotiators and customers; creating a friendly atmosphere, developing a flexible work environment, and more.
Also Read: The Checklist for Buying Workforce Management Software
Top 7 Benefits of Workforce Management
Let's have a look at why implementing workforce management is become mandatory for every organization recently.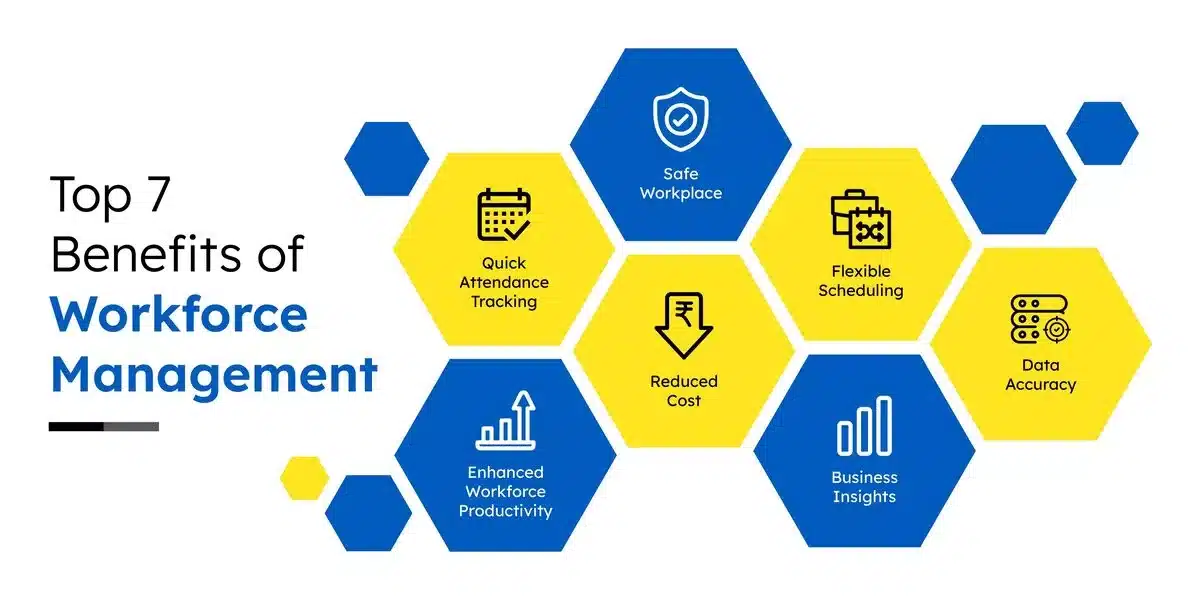 1.  Quick Attendance Tracking
Features like Biometric or facial recognition login and log-out options are one of the finest features of workforce management for tracking employee attendance regularly. With this feature, organizations can maintain data accuracy and reduce payroll mishaps.
With quick attendance and time tracking, organization can count the presence of numerous workers at a same time from any device. Meanwhile employees can view and analyse their attendance data and verify their own payroll details according to attendance.
2. Enhanced Workforce Productivity
The right workforce management strategy ensure that you are managing entire workforce policies and productivity in a better way.
With in-detailed employee performance reports and attendance tracking options, overall workforce productivity improves. And that leads to more employee engagement and company profit.
3. Safe Workplace
A secure and safe workplace is one of the main keys to promoting a great workplace culture. The right workplace management results in workplace's environmental health and safety incidents more positively.
4. Reduced cost
A well-designed and implemented workforce management helps in business operation more efficiently. It mainly leads to smoother productivity with cost savings over time. Here are some specific ways that workforce management system can lead to cost savings:
Improved scheduling
Reduced administrative costs
Improved Productivity
Better time and attendance tracking
5. Flexible scheduling
Proper workforce management streamlines the process of employee task scheduling. It ensures flexibility at workplace that leads to maximum productivity with minimal costs.
Organizations can utilise multiple tools that enables staff to access and perform their office tasks as per schedule anywhere, anytime. Companies can easily reschedule meetings at any time required.
To summarize, a swift employee scheduling schedule improves the entire workforce management process.
6. Business Insights
The Workforce Management process ensures the business insight in detail. With the various workforce analytics and performance management tools an organization can monitor multiple employees' performance together and get a real-time employee performance report within no time.
7. Data Accuracy
Data accuracy is one of the main purposes of integrating workforce management solutions at the workplace. A proper workforce management solution curbs human error and improvises data accuracy at the workplace.
Automated data calculation and data maintenance save time and minimize effort also.  It ensures the data safety as well. Intelligent compliance alerts ensure that an employee's data is accurately recorded and saved securely in database.
Workforce Management Process in Detail
Let's discuss a detailed process of managing the workforce of your company. You can get a fair output at the end of the day.
The workforce management process includes:
Strategic arrangement
On-Demand duty forecast
Employee scheduling
Attendance tracking
Skill & Performance management
Data analysis and maintenance
Employee empowerment
Payroll management
Budgeting
Task management
Yes, that is the basic to cover. Now you are confused about how to maintain the entire process successfully. And the integration of workforce management software comes.
So, what is it, how does it work, why should we integrate workforce management software at our workplace and what is the best workforce management software in India?
What is Workforce Management Software?
Workforce management software is a solution that helps businesses manage their workforce efficiently. It is a suite of tools that automate and streamline the process of scheduling, time and attendance tracking, payroll processing, and other related tasks.
A typical WFM software includes modules for managing employee schedules, time and attendance, absence and leave management, performance tracking, and reporting. It can also integrate with other systems such as HR management, payroll processing, and accounting software.
The benefits of a workforce management system include increased productivity, better compliance with labor laws and regulations, improved accuracy in payroll processing, and better workforce planning. It can also help businesses reduce labor costs, avoid overtime, and improve employee satisfaction by enabling more flexibility in scheduling.
Overall, WFM software can help businesses of all sizes optimize their workforce management processes and achieve greater operational efficiency.
Top 10 Best Workforce Management Software in 2023
Workforce management software is a standalone solution for an organization. It can be implemented as part of an integrated HR management suite as well.
We are curating the best workforce management software that streamlines the entire HR management process. Let's get into the details.
1. Pocket HRMS
Pocket HRMS is one of the best cloud-based HRMS software that helps businesses manage their HR operations more efficiently.
The software enables high-end AI-based structures, and a user-friendly interface and provides a range of features like facial recognition for managing employee data, payroll, attendance, leave, performance, and more.
It helps the HR department undertake their tasks efficiently without any manual errors, boosting their productivity effectively.
2. Deel
Deel is a global payroll and compliance platform that offers services like automated payroll, benefits administration, tax compliance, and employment contracts.
It is a user-friendly platform with a simple interface that makes easier to manage business in the global workforce.
The company was founded in 2018. The headquarter of the company is in San Francisco, California.
3. Oracle HCM Cloud
Oracle HCM Cloud is a human capital management software platform that provides comprehensive solutions for managing human resources in large and medium-sized businesses.
It offers a range of features and services that enable businesses to manage their workforce more efficiently and effectively, providing better visibility and control over employee activities.
4. Connecteam
Connecteam is a cloud-based employee management software that helps businesses streamline their operations and manage their employees more efficiently.
The key feature of the software is the mobile-fast approach and finger-fast solution. The significant modules of the software are auto-managing tasks, smooth scheduling, quick time tracking, seamless communication, and more.
Moreover, numerous tools allow managers to stay connected with employees and monitor their operations in real-time.
5. ADP workforce
ADP Workforce Now is a cloud-based human resources management system (HRMS) that helps businesses manage their HR operations more efficiently.
One of the main features of the ADP workforce is comprehensive payroll processing. The software provides a range of features for managing employee data, payroll, benefits, time and attendance, and more.
6. SyncHR
SyncHR is a cloud-based human capital management (HCM) software that provides a range of features for managing HR operations. The main key features of SyncHR are eliminating errors and curating and integrating data by using a single and unified database.
The software is designed to automate and streamline HR tasks, such as payroll, benefits administration, time and attendance tracking, and more. The software helps businesses by saving time and reducing errors, and freeing up HR staff to focus on more strategic tasks.
7. Zoho Recruit
Zoho Recruit is a cloud-based applicant tracking system (ATS) with Ai assistance that helps to streamline the entire recruiting and hiring processes.
The software provides a range of features like auto job postings, selecting relevant resumes, scheduling interviews, and more.
The high-end features save HR time can reach a wider pool of candidates and attract high-quality applicants.
8. Homebase
Homebase is a cloud-based software platform that provides tools for managing employee scheduling, time tracking, and team communication. The software is featured to help businesses in the retail and hospitality industries manage their hourly workforce more efficiently.
The main features of Homebase are its employee scheduling capabilities. It has unique features like alerting employees of their upcoming shifts and allowing them to request time off or swap shifts with other employees.
9. Paylocity
Paylocity is a cloud-based human capital management (HCM) software that provides a range of features for managing HR, payroll, time and labour, and benefits administration.
Out of all the features, the most essential one is payroll processing. It automates tax filing, calculates employee earnings, manages employee deductions and contributions, etc.
The software can generate a list of reports like payroll summaries, tax updates and tax reports which can help businesses stay compliant with tax regulations.
10. UZIO
Uzio is a cloud-based HR and payroll software platform that provides comprehensive solutions for organizations mainly for small and medium-sized businesses. It automates the entire HR administrative work and allows businesses to focus on their core operations.
It streamlines the recruitment process through auto administration, swift onboarding, performance management, and time and attendance tracking. These tools help businesses manage their workforce more efficiently and effectively, providing better visibility and control over employee activities and more.
What does the WFM Software do?
Often HR managers get confused with the massive amount of data handling and storage data securely. Integrating workforce management software can be a one-stop solution for all.
WFM software ensures error-free data accuracy on maintaining tasks like calculating hours from punches and properly maintaining pall roll issues, analysing employee attendance, performance, compensation management and more.
The availability of the software brings entire processes of human resource information system online. So that both the organization and the employee can operate it anytime anywhere. Additionally, by using the software employer can reduce mistakes, save employee time, and can analyse the entire employee performance in detail.
Why Should you Use Workforce Management Software?
Let's have look how workforce management software could be beneficial for your business. And how to choose the best workforce management software for your workplace.
▸Less Paper Work
A workforce management system can significantly reduce the amount of paper-based work in an organization. It digitizes and automates the HR and workforce-related processes. With workforce management software physical timesheets can be converted to cloud database and it reduces the potential for errors or fraud.
Additional WFM can automate the scheduling of employees and the allocation of tasks in cloud, instead of the paper-based scheduling and tracking systems.
It can also digitize employee records and HR-related documents, allowing them to be stored and accessed electronically, rather than in physical file cabinets.
▸Improve Recruiting
Selection of the right candidate for the desired field can be challenging for the organization. Wrong candidate selection reduces productivity and company growth as well. Choosing the right workforce management software system is a one-time solution for a better recruitment process.
Workforce Management system enables artificial intelligence and other automation process that significantly reduce the tedious recruiting tasks. A proper automation process helps to manage an assortment of resumes and exclude the unnecessary ones that don't align with your preferred criteria.
Moreover, WFM with AI based features assist HRs with lining up the interviews by coordinating time between candidates. It minimizes the candidate overlapping hassles, auto-scheduling meetings between leaders, and making the onboarding and off-boarding process swifter. A proper workforce Management system mainly streamlines the entire time arrangement process.
▸Streamline Onboarding
From start-ups to large MNCs, every company have realized that onboarding is much tougher than the recruitment process.
Companies with organized onboarding processes lead to employee satisfaction, less turnover, and more company productivity. Proper workforce management software accelerates the entire onboarding process more smoothly.
Let's divide the onboarding process into three phases:
1. Before Onboarding: Ready Your Employee for Orientation
Before onboarding, all the paperwork from the company should be completed. Due to some mismanagement issues often, talent management specialist face challenges in finalizing it.
Workforce management solutions with enabled employee self-service options make the process easier. This software speeds up the entire thing so that employees get all the paperwork through the portal before arriving for their first day.
2. During: Making the First Two Weeks More Comfortable for Them
During onboarding, making the first two weeks easier for the employees can accelerate employee engagement and company productivity. Orientation is a good time for introducing the new employees to team and discuss about the payroll and attendance policies.
A workforce management system smoothens the entire process and helps provide clarity and a better understanding of company terms and policies to the employees.
3. After: Building Trust Between the Candidate and the Organization
Beyond the orientation process, the workforce management system helps to extend the onboarding process. Workforce management provides a trusted counter balance between the employees and the organization that leads to greater stability, better employee evolvement, and more.
Moreover, when your employees are happy and satisfied with the company's policies, terms, and conditions, trust and bonding become inherent. Thus, ultimately effective for the company's growth and profit.
Those three phases are a successful onboarding process. Integrating with a proper workforce management solution would help you optimize these phases and improve efficiency.
▸Better Employee Experience
With workforce management software, an employee can easily handle going through their daily task, scheduling meetings, tracking their own attendance and performance reports, calculating payrolls, etc.
Even they don't have to visit the HRs for queries. The user experience of the entire workforce management software provides a satisfactory result on company business processes and output.
Moreover, it accelerates employee morale and boosts their engagement by boosting transparency across the organization.
▸Enhanced Data Security
Maintaining data security of employee documents and other important data is an essential part of workforce management. In the past, the data was kept in a secure place or within some local area network under strict surveillance.
Innovation of the workforce management software solutions enabled by cloud-based solution ensures keeping all the data safe and secure which keeps your company running.
▸Eliminate Human Error
Maintaining the entire administrative work manually is time-consuming and increases the chance of human error. It reflects on organization mismanagement, ultimately the productivity affects.
Integrating workforce management software with enabled, cloud-based platform and AI/automation reduces the risk of human error, ensures data accuracy every time, and eliminates data entry mistakes using different self-service time reporting tools.
▸Easy Integration with Other Business Software
If a company already has workforce management software it can easily integrate with other digital solutions like its payroll system, invoicing, security, or more for seamless experience.
Besides, employee recruitment, onboarding, and offboarding, this connectivity makes the other complicated administrative tasks easier.
Let's have a look at an example when workforce management software is integrated with the payroll processing software, it reduces payroll mishaps.
The audit-ready custom reports make payroll processes easier. Workforce management with enabled payment features ensures instant payment options like shift payments and more.
Also Read: What is Document Management System? Top 5 Benefits of DMS
What are the Types of the Best Workforce Management Software?
There are various workforce management tools and performance management system for the betterment of company business growth and productivity.
Some are separate products that offer multiple functions listed below, while others go with the more integrated solution.
The name of the types of the best workforce management software and performance management solution is below.
Project Management Software
Multilingual Communication Tools
Customer Relationship Management Tools
Customer Service Ticketing Solutions
Workplace Safety Tracking Software
8 Must-have Features of the Right Workforce Management Software
Here are some of the most common features of choosing the best workforce management software:
1. Simple Usability
Before integrating any software, it is necessary to think about what can be the user's expectations. Workforce Management software is a B2C software solution. It has basic user-friendly features like automatic notifications, easy task management features, easy-to-use UI, database security, are available in any device.
Employee scheduling, timesheet management, performance management, and compensation management can easily be completed from anywhere, anytime.  Super usability features of WFM accelerate the flexible work environment of the workplace.
2. Easy to Integrate
Workforce management system can easily be integrated with the other system software like absence management software, payroll management software, ESS portal, recruitment management portal, etc. So that organization can use single integrated system instead of using multiple software.
The integration features in WFM ensure a greater data accuracy and lessen data error. It can be helpful for temporary onboarding systems, booking platforms, virtual queuing systems, finance systems, and task management systems, compensation management system, etc.
3. High-end Security
Employee data and all the official documents are confidential for everyone. Work force Management system cloud solution provides high-end security and ensures to safeguard data from any random theft.
WFM software enables with the GDPR compliance that is demonstrated by ISO 27001 and ISO 9001 certifications whilst authentication features like single sign-in and more. Single sign in increase the security and reduces password theft and contributes a better user experience at the login/logout.
4. Mobile Capabilities
Mobile accessibility is one of the essential features in workforce management solution software. The feature allows employees to log in anytime, anywhere, and from any device or platform.
Using mobile devices is convenient for the organization and also allows scheduling sudden meetings or getting some urgent notifications instantly (using a smartphone or tab) in case a resource calls out. It has become a mandatory aspect of the success of an application in the recent hybrid work culture.
5. Super Flexibility
Connecting with HR manually for random queries or getting information is a really hectic task mainly for the remote employees. Workforce management system is a onetime solution for the matter, as this software provides super flexible atmosphere globally.
Employee can get answers of some random queries or important information though this software even without communicating with HR panel. The organization can easily cherish the culture of flexible working without negative consequences.
6. Time & Attendance Management
The workforce management system has unique features like auto time and attendance management capabilities. This feature reduces the mismanagement in counting employees' attendance sheets and lessens the cost of time theft for every organization.
The Workforce Management solutions have an effective time and attendance tracking capability that ensure the time worked by an employee and the time scheduled. It means, the employee can get paid correctly and on time with additional workflows. It eliminates payroll error and makes an autogenerated payroll for every employee.
Besides, With the features like geofencing and selfie technology, Workforce management software can detect the accurate login and log-out time of every employee. If any employee is late from the scheduled time, it is marked as Late.
And if any employee doesn't login in on any day, he is mentioned as absent. Employees can log in and log out through their phones as well. This time and attendance management feature in the WFM software allows managers to maintain a real-time view of staff location.
7. Auto Scheduling
Workforce Management software has the cloud-based features that auto schedule the meeting by creating a balanced schedule with the historical data.
Moreover, with the  AI based employee scheduling software, organization can create a team that would be best fit as the labor needs. The features help you finding the best employees based on the required skills, certifications, preference and more.
Some features of WFM also allows to send notification of swapping shifts with co-workers and providing their availability in advance of assignments.
8. Absence Management
Absence Management system is an identical feature of the workforce management system. Rather than sending on paper leave application, it is more convenient apply for leave through the absence management portal.
The feature allows the human resource specialists to track the leave trends, whether employees are taking leaves for some random reason or for some genuine reasons.
With this absence management solutions managers can remove the duplicate data, and accepting or rejecting multiple request at the same time from anywhere, anytime. And the data is automatically saved on employees' system.
End Note
In conclusion, a well-designed and properly implemented workforce management system can bring significant benefits to an organization.
However, it is important to carefully evaluate the costs and benefits and ensure that the system is aligned with the organization's goals and culture.