Automate and streamline your leave management process
Automated leave management
Get your processes streamlined with Pocket HRMS
Error-free and timely payroll
Foolproof attendance data leads to accurate and on-time payroll
Stay informed
ESS portal provides information regarding employee's leave destination, reason, days, etc.
Save more time
All-in-one HRMS solution ensures smooth operation of employee leave management
pocket HRMS
Streamline employee leave management without a hassle
You can manage and track employee leaves with our dedicated leave management system. The simple and easy-to-use interface of Pocket HRMS software makes leave processing easy for both the employees and employers. An employee leave management system will let you no more worry about data integration or miscalculations.
Automated leave management system makes leave processing easy for both the employees and employers. Check out core features of Pocket HRMS.
Stress-free and on-demand report generation
Get complete leave history of your employees with our foolproof leave management software. The leave tracking system lets you check your employee's leave balance and other associated details such as eligible leaves, available paid leaves, leaves approved, rejected or pending, etc. when required.
Enable managers to fetch their reviews and feedbacks
Pocket HRMS enables project managers to check for leave details of employees and accordingly fetch reviews and feedbacks. They can even approve or reject employee leave requests through this portal. Therefore, managers don't have to ring up the HR department to fetch these details. This saves a great deal of time for both HR department as well as managers.
Win flexibility with Online leave management software
TThe software lets you and your employees approve and apply for leaves respectively with ease through its dedicated leave management module. Through the provided ESS portal, employees can easily download their leave details or apply for a leave through mobile phones. This gives flexibility to your work culture bringing in better work environment. Employee attendance tracking becomes easier with leave management system.
Improve workforce productivity
Be prompt while attending leave requests. HRs now do not need to run through tons of procedures for even small approvals. Pocket HRMS' leave management system lets you manage leave related concerns, reports, MIS, etc. with comfort. As a result, employees need not wait for decades for their requests getting attended by their HR or manager. Hence, all these adds up to improving workforce efficiency and productivity. Our HR chatbot - smHRty can also help employees for checking leave balance, approved leaves and other details.
What is a leave management system?
It is a dashboard that allows an employer to accurately allocate, track, manage and grant/reject leave and also employees can request and track their own leaves. By accessing this system, the human resource department can easily manage, track and store employees' leave requests in an efficient and accurate manner.
Features of leave management:
Before you start searching for the right leave management module, it is necessary for you to explore the features of the software and how it eases the burden of HR team. This tool makes the leave processing hassle-free for employees and for employers both.
Here are some key features of leave management module:
Simple and easy-to-use interface
Time tracking system to keep track of employee's leave related details
ESS portal to apply for the leave and can download the leaves details as well
HR Chatbot helps employees to check leave balance and other associated information
Reasons to invest in leave management system:
'Processing leaves' is one of the key responsibilities of HR people and managers. It becomes imperative for the human resource department to track the record of absenteeism. With this system, you can take charge of leave management process and make it automatic to handle leave requests. It handles all the steps like application, rejection/approval, calculating leave balance, included in the leave management process with ease. The module also help HR managers to identify leave trends with just few clicks.
A single dashboard where employees can check their leave balance and managers and HR people can view employees' leave details. Below mentioned are some of the important reasons why organizations must invest in this excellent tool;
HR staff can evaluate leave request in a better way when they have access to leave balance, holiday list, etc. in a single platform.
This cloud-based system allows employees to apply, approve/reject leave requests from anywhere and at any time.
It is the perfect solution that allows your authorized person to customize fields so that it can fit your company's rules and regulations.
The employer can design customizable workflows and can also develop department-wise hierarchy to run streamlined procedures.
It integrates well with your company's other HR software modules for attendance, payroll, etc. and saves lot of time, eliminates paper-based work and avoid human-errors.
It makes the process hassle-free by removing manual dependencies and creates a transparent process.
Also, the software saves efforts of HR people spend on paperwork and centralizes all the employee leave details for easy accessibility.
How Pocket HRMS Leave Management System works:
You can set leave in the pre-defined structure of an organization and also include leave types like (Cl, PL, OL, etc.). It gives the human resource person the ability to add comp-off entries in real time and can be notified the same to the employee via ESS portal (employee self-service portal).
Through our cloud-based ESS portal, an employee can apply and track his leave requests in prior and check the leave balance. Also, they get access to visit official holiday calendar in the system.
Then, the HR team can approve or reject the leave request considering the need of an employee as well as the company' requirement. Which gets integrated with biometric attendance system automatically and helps in payroll processing.
Our mobile payroll app in your Smartphone and a net connection, leave requests approvals, MIS leave reports, comp-off entries, etc. can be managed from anywhere, at any time with ease.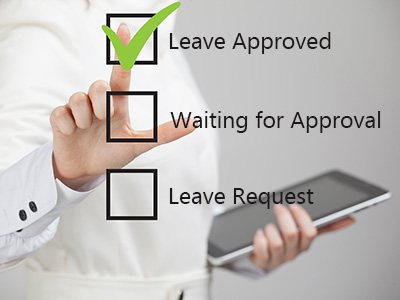 So, handling leave structure becomes easier for the concern person. Applying and approval / rejection also becomes quicker and easier for the staff and managers respectively. Bid goodbye to manual handling of leave requests and say 'hello' to digital way! Eureka, no more human errors as well.
With the smart tool like leave management, managing and tracking leave requests, calculating balance leaves and accurate salary processing is hassle-free. The module is designed to address the pain-points of leave management in an efficient way, be it for a small, mid or large-sized company.
It facilitate HR people to manage leaves as well as absenteeism in a transparent, accurate and efficient way. This tool curbs the complexities along with manual work involved in leave tracking. Also, decreases admin work to substantial levels. Companies should also consider that a good system is essential for smooth co-ordination between employees and managers to create a win-win situation for all.
Pocket HRMS supports smooth integration and doesn't leave a single stone un-turned when it comes to flawless leave management. Hence, it's time to automate this complicated yet important process of businesses and enhance workforce efficiency.
Contact Pocket HRMS for a free demo of leave management software and check how it can decrease the overall time and efforts your HR department spends on processing leaves. Get rid of the tiring chore of navigating through piles of leave requests, emails, etc. Just SMS SAGE to 56767 or write us a mail at sales[at]sagesoftware.co.in or call on 1800-3000-1595 to book a free demo.
Frequently Asked Questions (FAQs)
What is employee leave management system?
An employee leave management system helps in easy leave management of the staff. A robust leave management system tracks employee leave requests, tracks approval and notifies the status to the employee.
Why leave management is important?
The tedious job of managing employee leaves can be streamlined using proper leave management strategies like an LMS (leave management system). It makes the payroll accurate and ensures right pay is being processed with accurate attendance data.
How you can manage your employees leave using HR software?
Integrated leave management system with your HR software/ HRMS keeps track of employee leave parameters. The stored data can later be used during payroll for accuracy. Employee tracking system on HR software makes attendance and leave management easier for HR department.
What are the Benefits of using Leave Management System?
Tracking employee leaves
Fool proof payroll
Accurate attendance details
No more spreadsheets
Human errors at bay
Real-time visibility
Improves communication
Easy data access
How leave is calculated using HR software?
Dedicated leave tracking software tracks and records employee attendance details and leaves taken throughout the period. The software then calculates remaining leaves and leave credits accordingly. HR software makes leave management easier and seamless.
request a call
Pocket HRMS helps you get the most

out of your employees