Reading Time:
7
minutes
What is HR Management?
Human resource management is basically the administration of human resources. It primarily refers to handling employees and acknowledging their requirements for maintaining a positive work culture.
The definition of HRM also includes a set of practices, which helps manage employee data like attendance, payroll, and ensure smooth employment. Other functions of human resource management include expense management, staffing, Social engagement of employees, ensuring a healthhttps://www.pockethrms.com/blog/7-key-functions-of-hrm-human-resource-management/y work environment and more.
What are the Objectives of Human Resource Management?
The primary objectives of Human resource management are to ensure a seamless experience for the staff and other people associated with management and accomplish organizational goals.
Objectives of HRM include ensuring the availability of resources, easy access to data, on-time payroll, ensuring compliance, etc.
The objectives of human resource management (HRM) are aligned with the entire interest of the organization for enhancing the productivity and profitability of a business.
HRM objectives are basically influenced by organizational goals and verticals. The objective of HRM is to ensure a stable work environment with organized data management and efficient operations.
Also Read: 7 Key Functions of HRM (Human Resource Management)
What are HRM Organizational Objectives?
Below are 8 primary objectives of human resource management with in-depth elaboration respectively:
Achieve Organizational Goals
Work Culture
Team Integration
Training and Development
Employee Motivation
Workforce Empowerment
Retention
Data and Compliance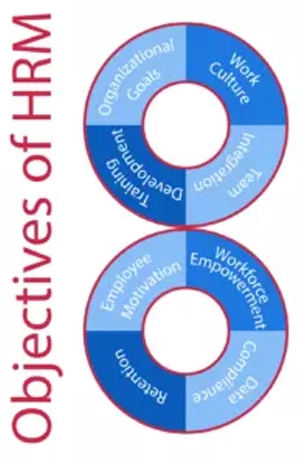 1. Achieve Organizational Goals
The HRM objectives are to fulfill organizational goals by utilizing human resources to achieve business requirements and standards. It is very important for an effective HRM to accomplish the organizational goals to inflate the profitability of an organization.
Organizational objectives include workforce handling, staff requirements like hiring, onboarding, payroll management, social engagement, and more. To succeed at the organizational objectives, HR requires efficient planning and execution.
Without a set parameter for goals, mission, and resources, HRM is incomplete. After you know your resources and planning at the place, achieving HRM objectives gets streamlined. Some more objectives are explained further.
2. Work Culture
When it comes to handling HRM effectively, employee and work environment are the prior factors. Work culture plays an important role in defining HRM and business performance.
An HR manager needs to be active while calling for strategies to foster better work culture. Automated activities like leave approvals, reimbursement request acknowledgement, etc. can help you.
In addition, Quick operations and empowerment to employees help in creating positive vibes at the workplace. Developing and maintaining healthy and transparent relations among team members and teams contribute to building a good example of work culture.
Adopting the right solutions like an employee management system can solve more than half of your job. Small steps like short and sound onboarding processes can help build a good image of the workplace.
3. Team Integration
One of the prime roles and objectives of HRM is to make sure the team coordinates efficiently. Easy communication is the need for teams in an enterprise. An HR here must ensure a tool that assists in making the integration easier and smooth.
The proper connection between individuals is a must to ensure productivity. To make human capital management successful, you need to search for better integration portals to make data availability easier for people.
Functional objectives like team integration are to produce streamlined operations and tasks. The right tool like the self-service portal can bring employees closer to HR folks.
4. Training and Development
Workforce being effective and performing are two important and basic elements to work upon for achieving your basic objectives at an organization.
With proper training and providing future opportunities, employees feel safe and organized. Effective employment is highly dependent upon training practices. Providing opportunities to employees is one of the great step to ensure workforce performance management.
There might be difficulties such as planning, scheduling training sessions, and evaluation of each on-boards.
To lessen the pain, solutions like training management software can help you with auto-reminders, easy scheduler, reporting, and tracking capability. The HR manager can ensure effective training practices at the firm.

5. Employee Motivation
The prime objective of the HR team is to keep things on the right path. Keep distractions and negative vibes away.
For this, the employees need to be attended to and kept motivated throughout. But the question here is:
▸How can HR motivate employees?
For motivating employees, it is important to give power to them. Take their views on things. Involve them in weekly meets or decisions. Even if they are freshers, let them join. Keep the morale always high.
Employee recognition like yearly appraisals, incentives, and bonuses based on their performance can too help. It must be framed yearly to review the performances as well as reward the deserving.
An automated feedback system for performance appraisal management can keep your employees motivated and ensure productivity throughout the service. When the employees are satisfied and fulfilled, nothing else can prevent them from accomplishing the required target for the enhancement of productivity.
Also Read: Evolution of HRM (Human Resource Management)
6. Workforce Empowerment
Talking about employee motivation, nothing can work better than empowering them. Empowering them with tools like ESS portal can help save HR efforts too.
With the portal, employees can apply for approvals and track them through their mobile phones. Be it leave requests, generating Payslip, checking PF accounts, remaining leaves, upcoming holidays, manager details, or anything, HR intervention is least required.
Employees no more need to knock on HR's desk for small queries as all the minute details would be made available on the ESS portal. The workforce plays a pivotal role in an organization as the functioning of the business depends on the skills of the employees.
When the objective of HRM would align with individual interests it inflates the encouragement of employees to heights. What else could empower workforce would take? How would you ensure the right workforce engagement? Effective HRM measures can definitely help. Look for easy employee management tips.
7. Retention
Providing leadership qualities and opportunities, a healthy working area, and employee retention are some prime objectives and deliverables of the HR managers. Keeping employees retained and motivated needs to be a top priority for HRM.
To ensure the retention of employees, the HR department should optimize the functional objectives of the company in accordance to the interest of company as well as its workforce to ensure the engagement of staff in achieving the company's goals.
Other than employee hiring, onboarding, and training cycle, keeping the employees retained for long is the biggest challenge AKA the objective of the HR people. It often occurs that employees leave the organization within 2 months of onboarding. It can be due to ineffective training management or a rough hiring process.
Employee experience needs to be carefully attended to. Keeping your employees retained can help maintain a good state of employee turnover. To keep it stable, the HR manager needs to learn the best retention tips for business.
Also Read: Best practices to retain Top Talent [Secrets Unwrapped]
8. Data and Compliance
Functional and organizational objectives also include managing company/ employee data and managing compliance. Managing payroll compliances and keeping the company out of any penalties or fines is a huge challenge for the Human resource management (HRM) teams and managers.
Even a small error or miscalculation can owe you huge penalties and even may lose respect. When committing to tasks like employment and payroll, you need to be careful about laws and regulations. The objective here is to keep any unwanted claims at bay for smooth functioning.
Automated software is the main element in human resource management and objectives attaining. Like the HRMS system can help you keep errors at the side and leave no window for owing any penalty from IRS.
It is the responsibility of HR to follow IRS guidelines and standards for effective employment at the company. Stay assured of all the legalities.
Questions and Answers
1. What are the main objectives of HRM?
Objectives of human resources are broadly classified into 4 areas such as:
Societal objectives
Functional objectives
Organizational objectives
Personal objectives
2. How to make Human resource management easy?
Effective HR management includes anticipating future HR needs, managing resources, employee management, talent hiring, HR data, foolproof payroll, FnF settlement, etc. To commit to an HR duty, online HR software can be very helpful.
Right HR management strategies and HRMS software can together make crucial workforce management easier and more accurate.
An HR software with integrated modules like a recruitment management system, timesheet management system, attendance management system, etc., makes HR management a piece of cake for people.
Irrespective of vertical and business needs, HR solution is useful and available in two basic versions i.e. on-premise and cloud-based providing much-needed flexibility and power to the organization.
3. How HRMS system help you achieve the objectives of human resources?
An HRMS system is a new-age employee experience software and payroll system. It eliminates the maximum part of the paperwork and human intervention, which then drops the chances of human error in calculations.
The HRMS helps you streamline HR activities, which include important tasks in order to achieve the objectives. Auto-generation of reports and reminders makes processes easier and more accurate.
The chances of failing with an HRMS tool are minimal. Data access, time consumption, and a better work environment are some major benefits of the right HR management. Curating and working upon a set of HR objectives can help you get the cutting edge of survival in the industry.
With the changing conditions and requirements of people, staying up-to-date with trends and HR strategies can be a better decision.
Final Note!
The main aim of human resource management is to establish the organisation reputation among noteworthy companies for which adequate framing of objectives is essential. In order to achieve the desired outcomes from the main objectives it is crucial for the company to evaluate and monitor the functioning and operations from time to time.
various objectives such as societal, functional, operational, and personal objectives are necessary to be achieved within the given period of time for prolonged success, growth of employees and surge the reputation of the organization.
It the technological era, it is important to focus organizations should focus on automating HR processes by installing HRMS applications to streamline the evaluation of objectives of human resources to achieve the wantable for both the employees and the company. The software must be in syncronisation with company policies, procedures and requirements.

Takeaway!
Pocket HRMS is one such HRMS solution. To learn more about HR management tips, follow our recent HR blogs! Also, write to us at sales@pockethrms.com for the best deals and pricing.