Reading Time:
7
minutes
Why do you read a book instead of randomly surfing the internet and applying for online crash courses?
A continuous reading habit is not only a good habit but also increases the ability to remind the learning in future. Moreover, grabbing knowledge from books broadens your thinking and provides the base resources for dealing with future Hr obstacles.
In the article, we share the top 6 must-read hr books for strategic human resource management and employee management to elevate HR analytics and the predictive HR analytics scorecard in the HR industry.
We have decided to add the most popular HR books that help to provide an in-depth understanding of human resource management.
6 Best HR Books for HR Professionals in 2023
1. Human Resource Management by Gary Dessler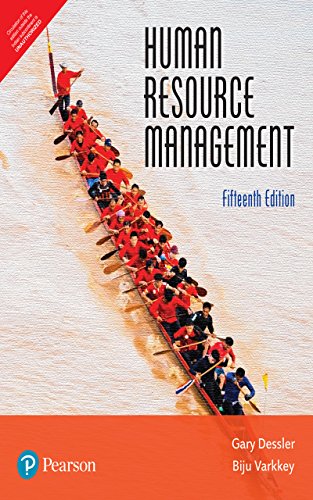 Human Resource Management by Gary Dessler is one of the most important books for HR professionals. The book has 15 parts, and each tells about the evolution of HR practices for human beings.
In 2023, the 15th part has been published in the market and tells about the daily tools and skills for HR well-being. It highlights the introduction of new technologies and modern HR professional approaches in social media platforms such as LinkedIn and cloud computing.
➔ Content in the Books
Part 1:
Part 1 introduces employment law in India, HR strategy and analysis.
Part 2:
Part 2 covers the streamlined recruitment process, Placement and Talent Managemen, Employee testing and selection.
Part 3:
Part 3 ensures the training and development of employees, managing employee retention, engagement and careers.
Part 4:
Part 4 is about how to Compensate for business, create strategic pay plans and pay for performance and Financial Incentives, benefits and services.
Part 5:
Part 5 ensures the enrichment topics in Human Resource management, employee safety and health, and how to manage global human resources.
Also Read:
2. The Essential HR Handbook by Sharon Armstrong and Barbara Mitchell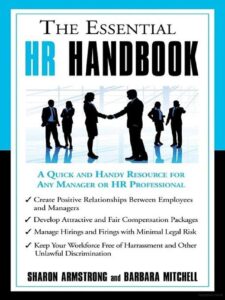 The Essential HR Handbook by Sharon Armstrong and Barbara Mitchell is best selling book for HR professionals and a handy guide for the HR analyst. This essential book comes along with the HR professional's toolkit. It helps the HR leaders handle the personnel problem through the entire hiring and offboarding process digitally.
The 10th edition has been updated in 2023 and tells us about the updated tools, checklists, sample forms, and timely tips to guide you in taking the human resources initiatives and enhancing HR rising.
➔ In the book, you'll find out,
How to attract talented staff through social media recruiting.
Identify HR laws and policies to avoid lawsuits and regulatory interference.
How to manage the diverse and inclusive multigenerational workforce.
The process of streamlined orientation and onboarding practices for the new employees.
How to deal with compensation and benefits packages.
10 Effective Social Media Recruiting Strategies [Free E-book]
3. The HR Scorecard by Brian Becker, Mark Huselid, Dave Ulrich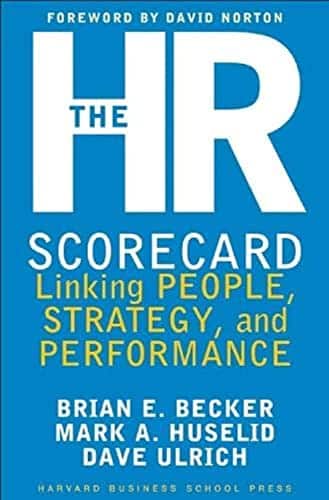 The HR Scorecard is one of the best-selling books by Brian Becker, Mark Huselid, and Dave Ulrich that provides a basic knowledge of HR practices and streamlines the entire administering function, operational benefits and other payroll and operational functions.
It mainly focuses on the strategic role of the HR function in organizations and provides a framework for aligning HR practices with business objectives to drive organizational performance.
➔ Content in the Books
Part 1: Talks about the Business Contribution Perspective
The book ensures the traditional and basic human resource initiatives for successful business outcomes and enhanced financial performance.
The main goal is to provide basic knowledge about HR investment in the talent pool and the organization's financial success.
The book also emphasizes the process of maintaining psychological safety in the workplace.
Part 2: Talks about The Internal Process Perspective
Part 2 talks about the efficiency and effectiveness of HR processes and systems. It involves evaluating HR activities and practices to ensure they can be aligned with strategic goals and optimized to deliver outstanding results.
Part 3: The Employee Perspective
Understanding employee perspective in part 3 measures the effectiveness of HR practices in attracting, retaining, and developing talent.
It examines employee satisfaction, engagement, and commitment to determine the success of HR initiatives from the perspective of the workforce.
Part 4: The Future Readiness Perspective
The basic of HR practices is specific that reflects the future perspective. This part of the book helps HR to build human capital and capabilities to meet future business needs.
It involves assessing the HR department's capacity to adapt and respond to changes in the company culture, external environment and the organization's long-term strategies.
4. Victory Through Organization by Dave Ulrich, David Kryscynski, Michael Ulrich, Wayne Brockbank, and Mike Ulrich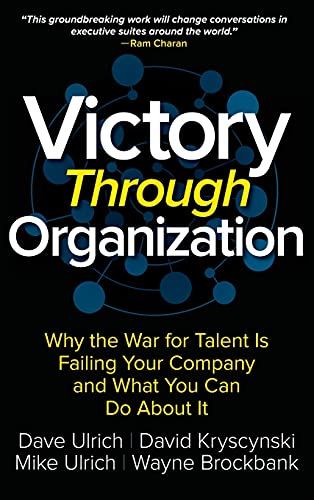 Victory Through Organization" is a book co-authored by Dave Ulrich, David Kryscynski, Michael Ulrich, Wayne Brockbank, and Mike Ulrich.
This book, published in 2017 is a significant contribution to the field of Human Resource Management (HRM) and workplace culture and organizational effectiveness.
The book explores how organizations across the business world achieving sustained success and competitive advantage by effectively organizing and managing their human capital.
The authors argue that traditional approaches to HRM are no longer sufficient to drive organizational success in the complex and rapidly changing business environment. Instead, organizations should focus on individual HR practices in isolation.
The HR book ensures the victory architecture within organizations. It involves viewing the HR functions, practices and initiatives holistically.
The book emphasises how they work together to create value for the organization and its stakeholders.
➔ Highlights of Victory Through Organization
The book helps identify the essential competencies HR professionals need to deliver high-impact HR practices and drive organisational success.
It has the 3-Box Strategic HR Model that encourages HR practitioners to balance their focus on administrative efficiency (Box 1), employee experience and engagement (Box 2), and strategic HR capability building (Box 3) simultaneously.
It helps develop a clear and compelling HR value proposition that communicates how HR practices and initiatives create value for the organization and its employees.
This book talks about the "outside-in" perspective, where they understand the needs and expectations of external stakeholders (e.g., customers, investors, communities) and align HR practices accordingly.
It emphasises the importance of building and leveraging organization-wide capabilities that drive competitive advantage and deliver on the organization's strategic intent.
Also Read:
5. Investing in People by KirsWayne Cascio, John Boudreau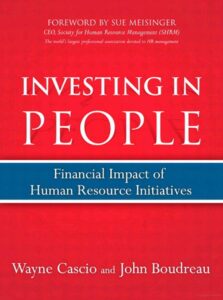 The book 'Investing in People' by KirsWayne Cascio, and John Boudreau is one of the most important Hr books that demonstrate the value of HR practices and investments by quantifying their effects on business outcomes.
How do you invest in a business or what is the process to grab a sufficient outcome through business? This book helps the HR professional to measure the financial return on investment (ROI) of various HR initiatives, such as training and development programs, employee performance management systems, recruitment strategies, employee relations and engagement initiatives, and more.
Doing so aims to help HR professionals and business leaders make data-driven decisions and justify the right and HR teams make investments for their contribution to organizational performance.
➔ Highlights of ' Investing in People
Investing in People draws talks about disciplines including economics, psychology, accounting, finance and other proven guidelines for evaluating key HR initiatives.
It helps identify and measure relevant HR metrics and provides knowledge of enhancing financial performance and business success.
The book emphasizes skills to identify HR initiatives by showing their potential financial impact on the organization.
The book helps understand the ROI concept and provides methods to calculate and assess the return on HR investments.
With the help of the book, HR professionals can minimise the gap between HR and finance by providing a framework of financial details and maintaining them.
With the help of the book HR can recognize the strategic partner in driving business success.
6. HR on Purpose by Steve Browne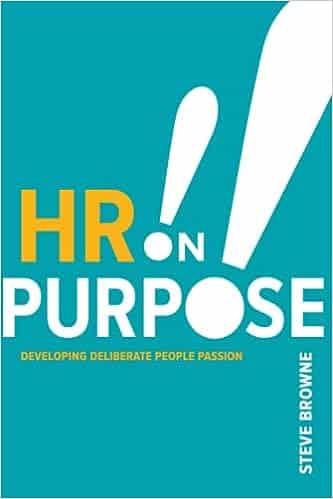 "HR on Purpose: Developing Deliberate People Passion" is one of the best-selling books written by Steve Browne, a well-known HR leader and practitioner. The book is a guide that emphasizes the importance of purpose and passion in Human Resources (HR).
In "HR on Purpose," Steve Browne shares his insights, experiences practical advice, and reflections on what it means to work in HR with genuine purpose and passion. The book is not a traditional HR textbook but rather a personal and motivational exploration of how HR professionals can create a positive impact on organizations and the people they serve.
➔ Highlights on HR on Purpose
The book helps HR explore the evolving role of HR professionals in modern organizations and their impact on people's lives.
It tells about the importance of passion and purpose in HR work and how HR practices help employee well-being.
The book emphasizes the significance of understanding the human aspect of HR, including empathy, compassion, and emotional intelligence.
It highlights the qualities and skills required for effective HR leadership and how HR leaders can inspire and lead their teams.
With the help of the book, HR can enhance their skill in building strong relationships with employees, managers, and stakeholders elevating HR effectiveness.
And it provides an overview of shaping and nurturing positive workplace cultures.
Moreover, it helps HR professionals to gain finance-related skills in HR professionals, supporting employees through the transition.
and assists in exploring technology integration and data analytics in HR practices and decision-making.

End Note
The Human resource field is rapidly changing and upgrading. Additionally, introducing the HRMS software streamline the entire HR practices very smoothly. However, it is most important to be updated with the new trending technology at all times.
So that you can smoothly handle the entire HR administrative work, reading books is an outstanding method for gaining basic knowledge that would be helpful in future talent management as well.
As people don't have enough time to read books. Audiobooks can be the answer to them. It helps friends and influences people in listening to the same material in the book instead of reading them. People can listen to the author's podcast also.