Reading Time:
7
minutes
Nowadays, job portals are extremely significant for candidates as it is essential for landing the right job through the use of job alert and job boards.
Recruiters and potential candidates find online platforms and the best job portals in India more convenient as it provides dedicated career pages with job boards listing out job openings using job posts and avoids the hassle of having to fill out lengthy forms.
Candidates can even use multiple kinds of filters to search top job portals in India for jobs according to the location such as filtering jobs in India. Job portals have other uses apart from finding jobs though.
They can be used to understand the average salary of a candidate with the same credentials and work experience as the job seeker.
They can also be used to understand the responsibilities handled by certain positions and the risks associated with them.
Many free job portals in India help you find relevant job postings with response management tools. Hence, we have curated a list of the top 10 job portals in India for 2023.
▸10 Best Job Portals in India for 2023
1. Naukri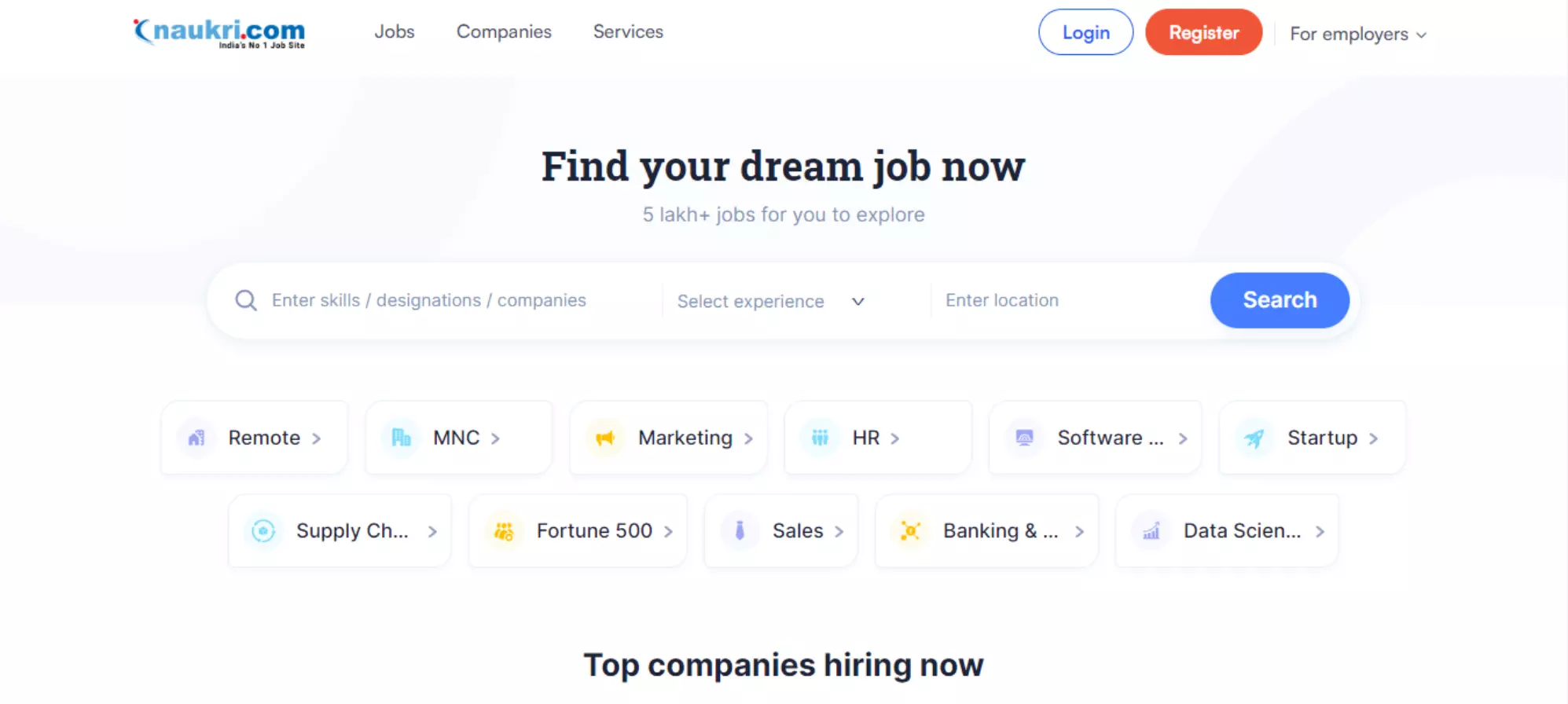 Naukri.com has become one of the best job portals in India for job seekers as thousands of jobs in India are being posted on the platform daily.
People who wish to have human resources to speed up the recruitment process in their job search and find the right job faster can also use the paid services of Naukri.
There are multiple paid services offered by the job portal such as crafting the right resume service for job openings to make them stand out from the crowd. An attention-grabbing resume is designed by expert resume builder personnel for job seekers as recruiters often use ATS for screening the resume.
The portal also offers services that are related to the hiring process and recruitment for recruiters, HR professionals, or placement and recruitment agencies, along with job seekers.
▸ Key Features:
Easy Listings
Quick Filters
Resume Development
Email Notifications
Jobs Updated Daily
2. FoundIt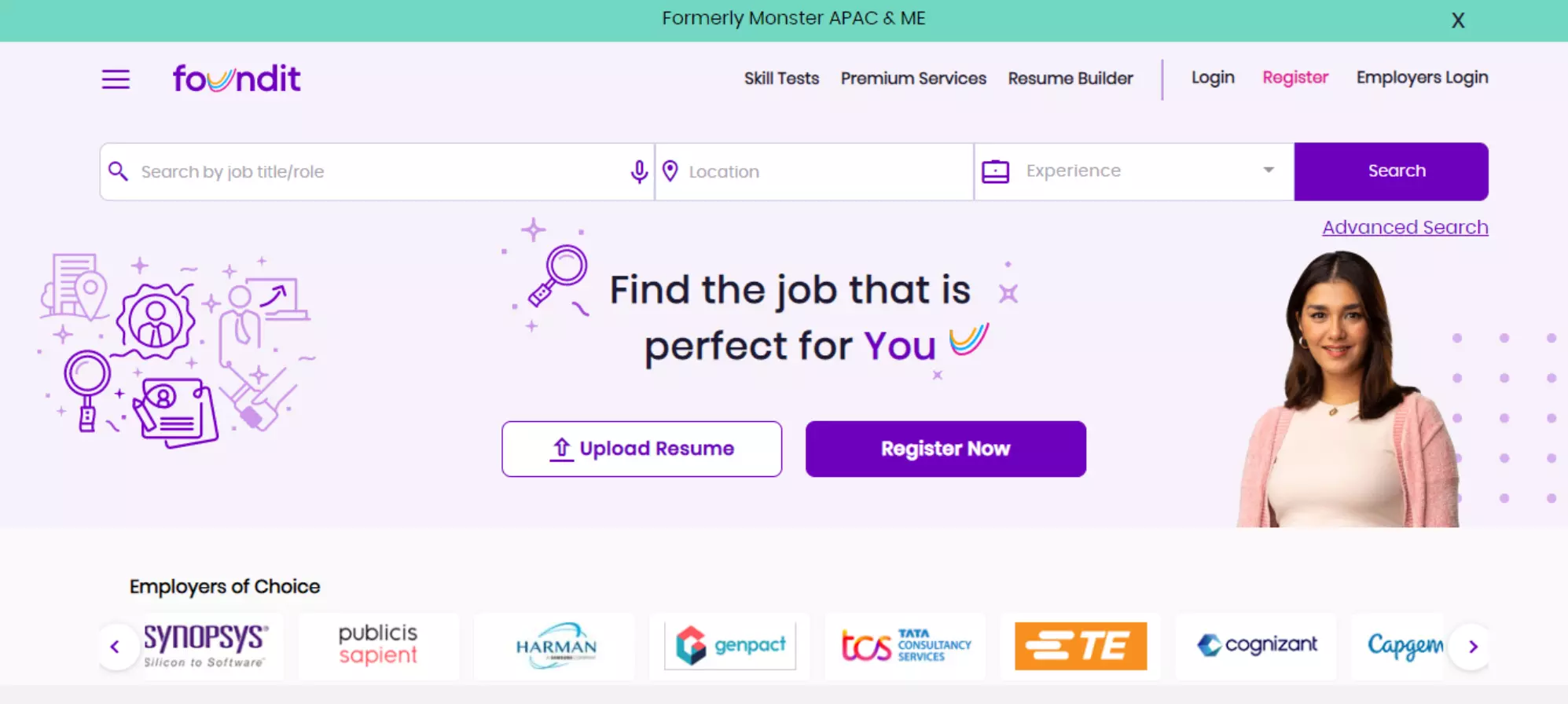 FoundIt, formerly Monster India is one of the top job search portals in India that helps you if you seek a job in India or abroad. Job seekers can create a free profile to get listed on the portal. It offers various search filters for the candidates to find the right job for them.
You can filter out the job search according to various parameters such as job title, location, education requirement, desired job industry, part-time jobs, and more. such features save time, making the process more efficient.
Considering the recent developments in the job market, FoundIt is also offering dedicated sections for freshers and another for remote work.
The website also has a resume database and offers various services related to resume-building. It also has a dedicated blog with different resume services and a skill assessment section.
▸ Key Features:
Numerous Filters
Free Resume Creation
Dedicated Freshers Section
Blogs for Better Job Hunt
Dedicated Remote Work Sectio
Skills Assessment Section
3. LinkedIn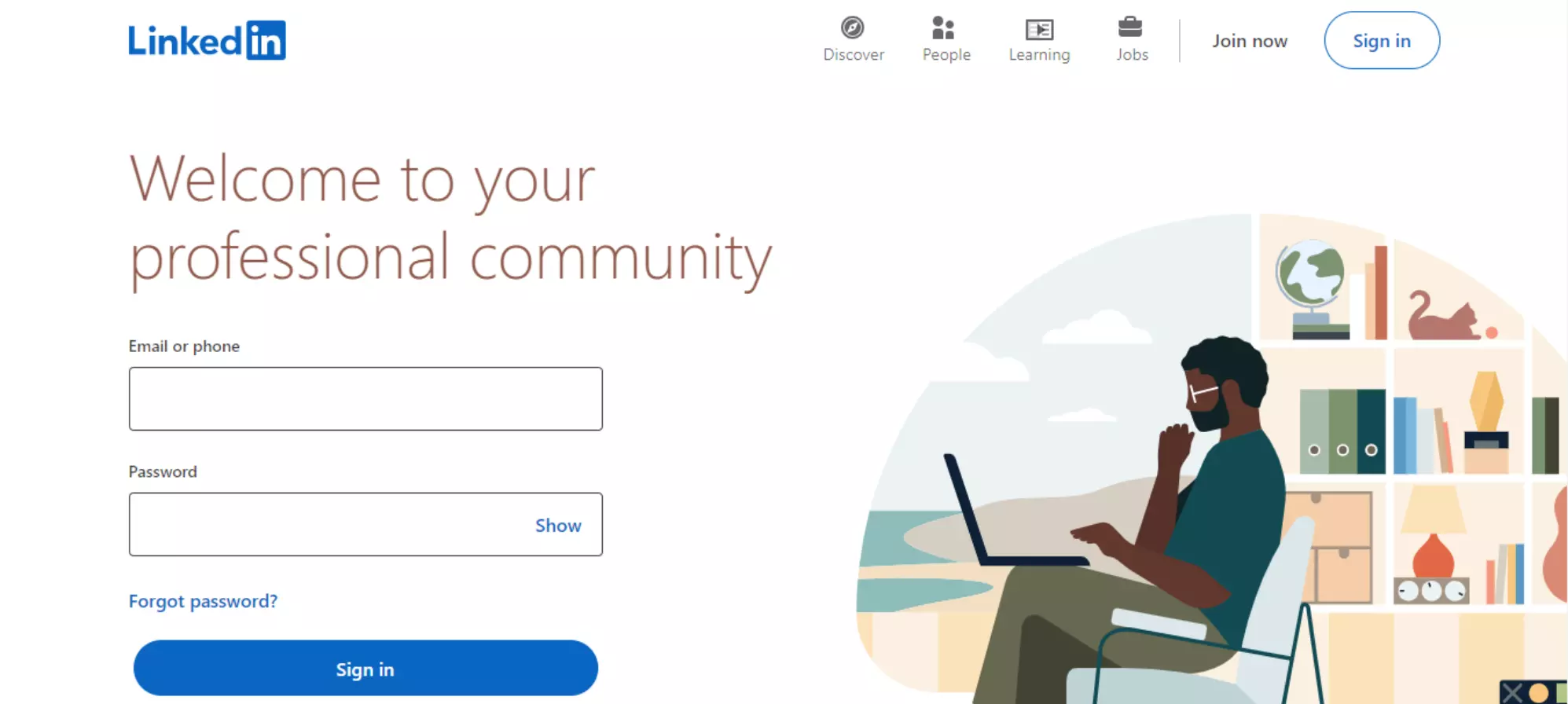 LinkedIn is a professional networking site and that makes it different from India's top job sites. It allows you to express your opinion and display your work. Hence, many companies go through LinkedIn profiles while choosing a candidate.
This website's network-building opportunities can be utilised along with your typical job portal and search process to connect with people in your domain, making it an excellent network-building medium.
It also provides the feature of setting custom job alerts, which comes in handy when searching for a new position. Additionally, with the help of peer recommendations, you can be sure of gaining added creditability for your work.
Additionally, the analytics offered by LinkedIn helps in identifying opportunities to laser-focus your profile for your intended audience.
▸ Key Features:
Vast Professional Social Media
In-depth Analytics
Peer Recommendations
Attract Passive Candidates
Exhaustive Filters
4. Indeed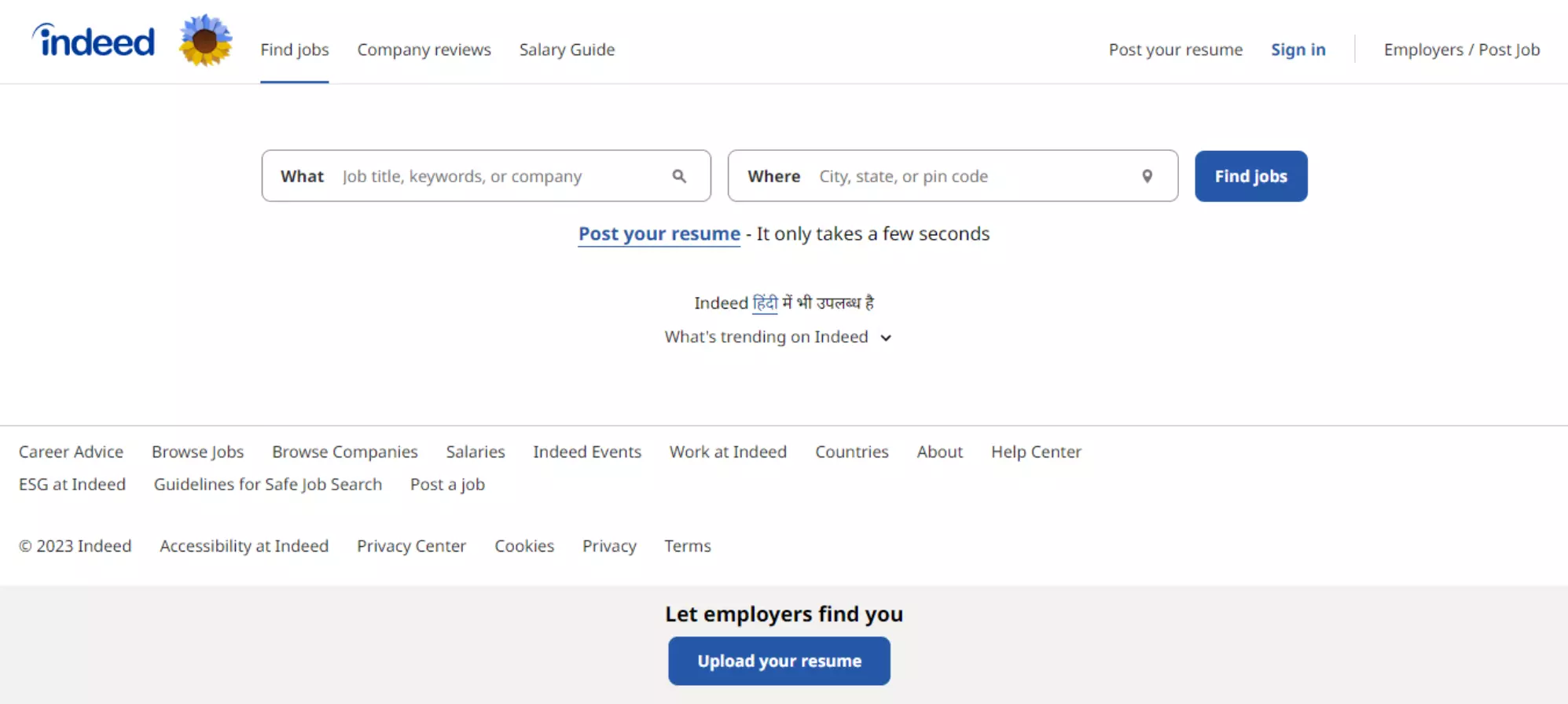 Indeed is a USA-based job portal that has easy-to-use filters such as job title, salary, location, and company, to help job seekers find the right job for them.
Being one of the top job searching websites in India, it also has a feature to review companies, which provides an idea of the company from the reviews and ratings.
Indeed also works as an aggregator website displaying all jobs from the local job portals. It can also help find freelance opportunities and internships along with full-time jobs.
You can also compare salaries and see the average salary for a particular job role. The features such as searching for jobs as well as salary comparison can be used without creating an account on the portals.
▸ Key Features:
Easy-to-use Filters
Company Reviews
Aggregator of Job Portals
Freelance Opportunities
Find Average Salary
5. Glassdoor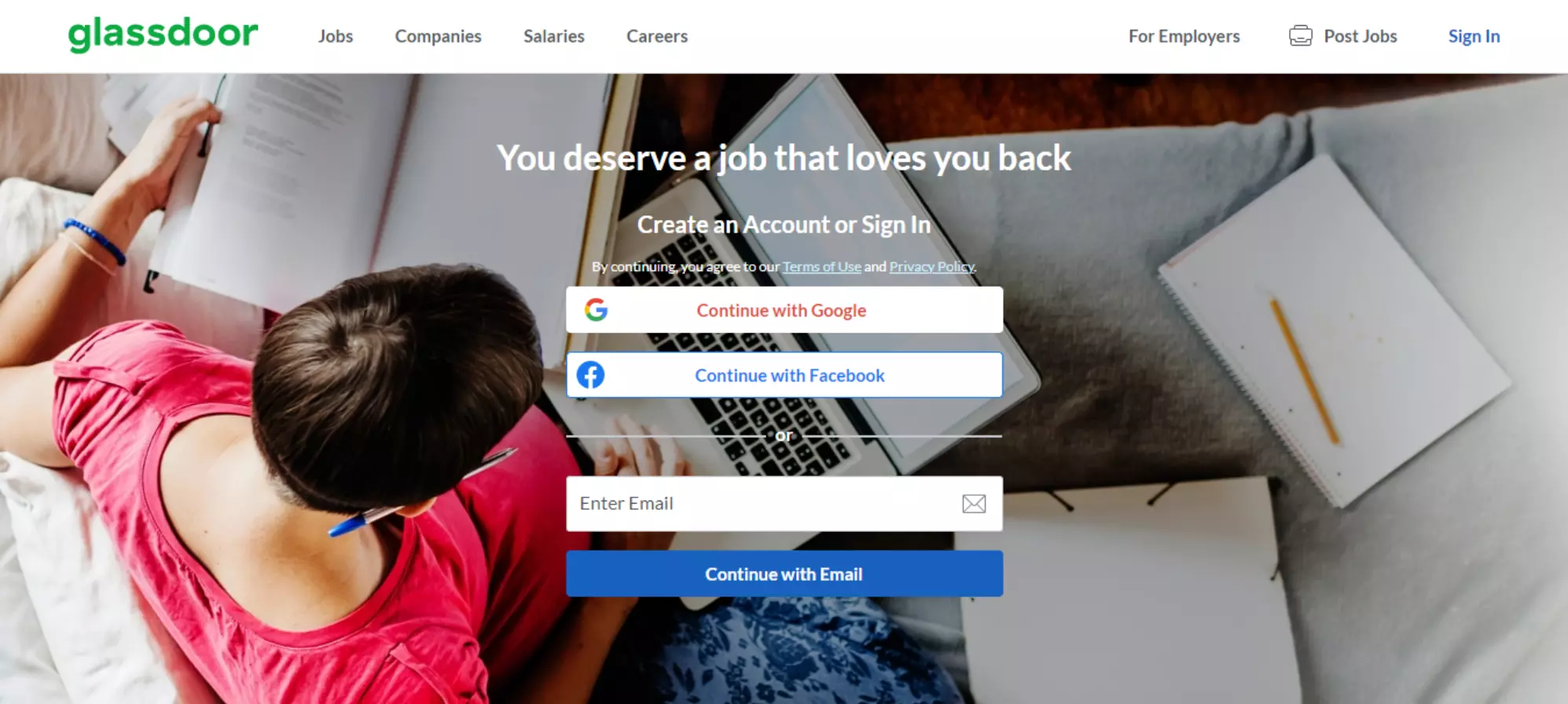 Glassdoor is one of the free job posting portals in India for job seekers. It also has job advertising services and allows employees to post detailed reviews about their company. Hence, it is a reliable source for job seekers to get a better idea about their prospective employers.
The platform gives you unbiased insights into the type of job posting, of work, company culture, and attitude of the management towards the employees.
The platform also helps you to be better prepared for your interview as it allows those who appeared for the interview to post some of the interview questions.
It also helps you gain clarity on the salary paid to individuals who have the same level of experience and hence, sets a baseline.
▸ Key Features:
Gather In-depth Reviews
Accurate Work Culture Analysis
Interview Query Help
Salary Insights
Also Read:
6. Shine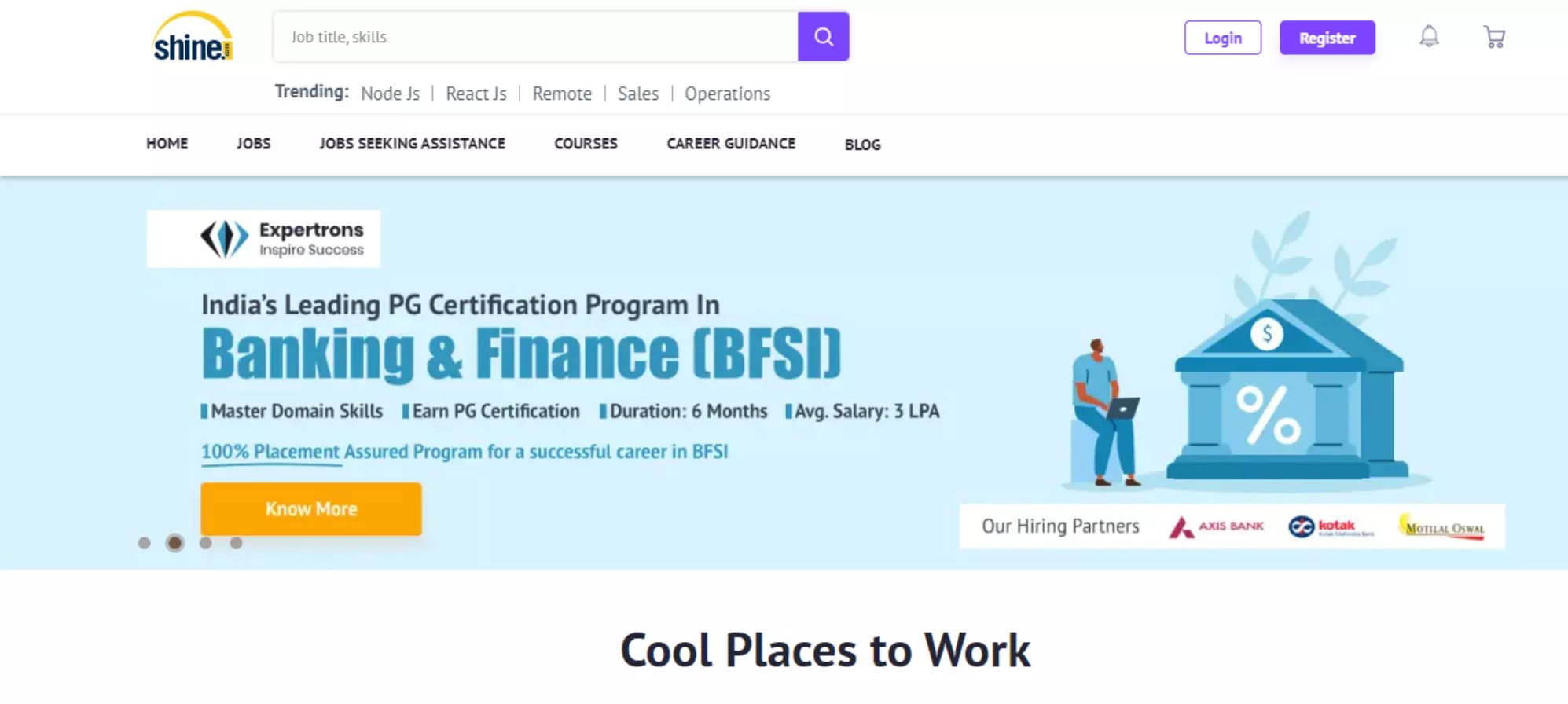 Shine is a job portal that provides daily job postings and listings from several different media partners. It provides innovative job sites, educational blogs and other resources for candidates to ensure a better job-hunting experience.
It also provides numerous services as a part of its paid plans, which include resume and cover letter writing, boosting profiles, and more.
Being a versatile platform, job seekers can find companies of all sizes from start-ups to multi-national corporations.
As a result, Shine provides a robust platform if you are trying to get a job from job sites.
▸ Key Features:
Job Curation from Media Partners
Resume Writing
Wide Variety of Companies
Data-driven Approach
7. TimesJobs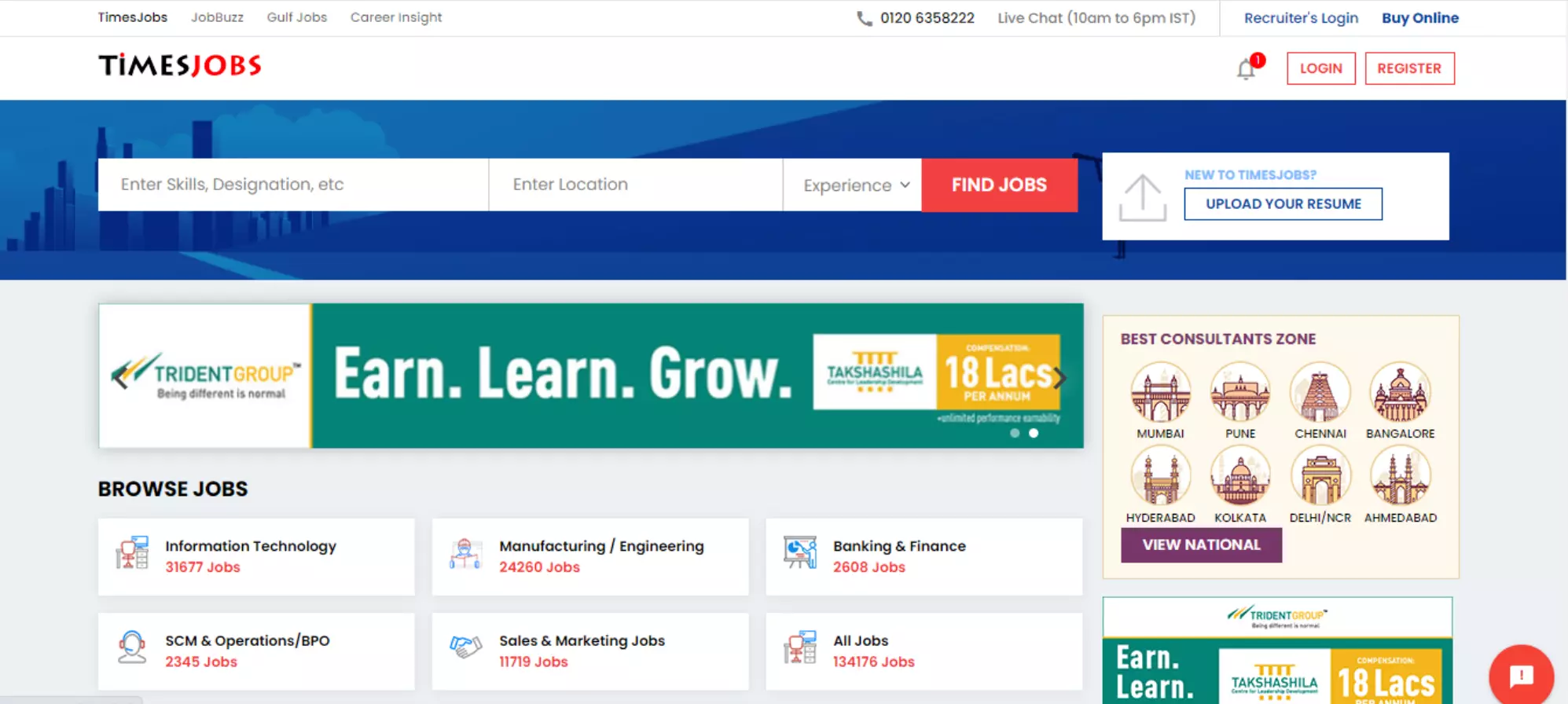 Being a part of the Times Group, Times Jobs has grown in popularity as a dedicated online job portal for sharing jobs and finding the right candidate.
Apart from job listings, the portal also offers other services such as job searches and company reviews to provide the candidate with a good overview of the companies they are interested in.
It also provides average salary values across the industry as well as a repository of informative blogs to help the candidates land their dream jobs.
Since the website also provides a list of government job postings, it has become quite popular among Indian candidates wishing to get into government positions.
▸ Key Features:
Curated Job Postings
Company Reviews
Government Job Postings
Informative Blogs
8. Upwork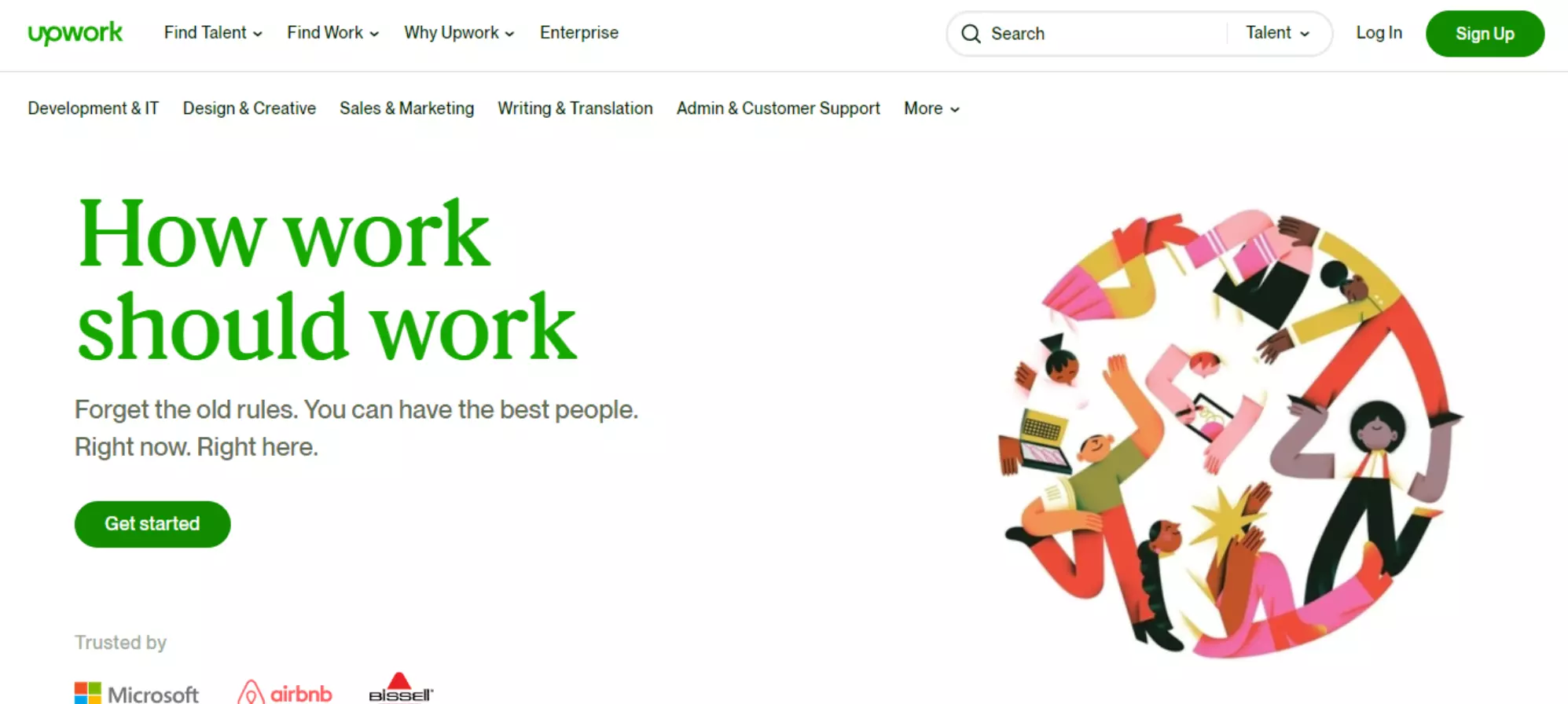 Upwork is a freelancing platform where you can find contract-based jobs which can be undertaken for a short duration. It is a global platform, making it ideal for undertaking remote gigs.
With the rising popularity of the gig economy, candidates from all over the world are flocking towards the best job portals like Upwork in the hopes of getting better gigs.
Since the website is geared towards freelancing opportunities, you can find opportunities in coding, designing, video editing, writing, translation, administrative work, customer servicing live chat support, website design, sales, marketing, branding services and more.
▸ Key Features:
Freelance-friendly Website
Ideal for Short-term Work
Freelancer Reviews
Employer Reviews
Varied Range of Work
9. Jobs For Her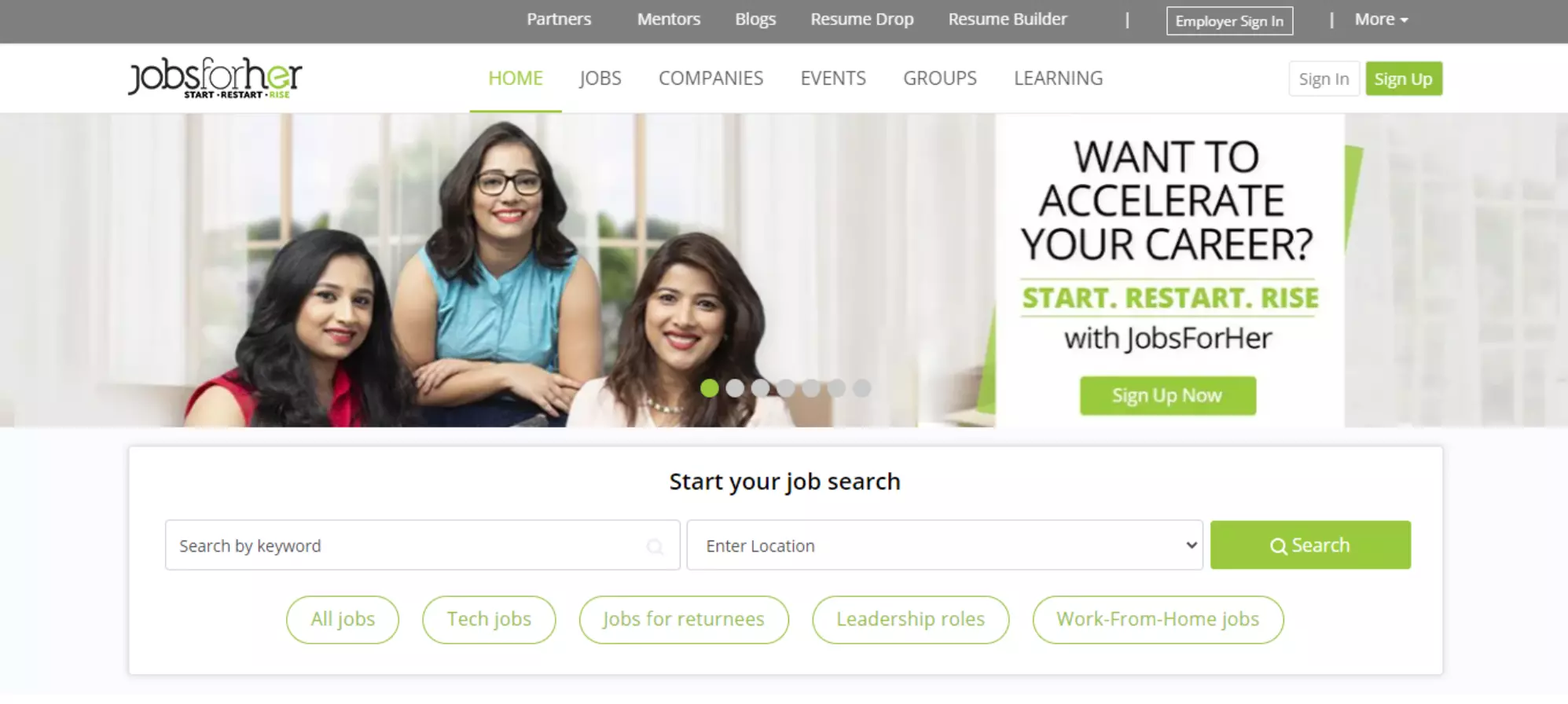 As the name suggests, Jobs For Her is the best job portal in India for women to connect on a professional level. As a result, the website connects job seekers with potential employers as well as mentors, communities, similar-minded individuals, and more.
Hence, they even organize events and webinars for upskilling and imparting knowledge to the females on the platform.
Since learning is a part of the Jobs For Her platform, they have a dedicated section for undertaking paid courses.
While these courses are offered by their partners, they are offered at a discounted rate on the platform to ensure wider reach.
▸ Key Features:
Female-centric Platform
Dedicated Mentorship Programs
Female Communities
Paid Upskilling Courses
10. Freshers World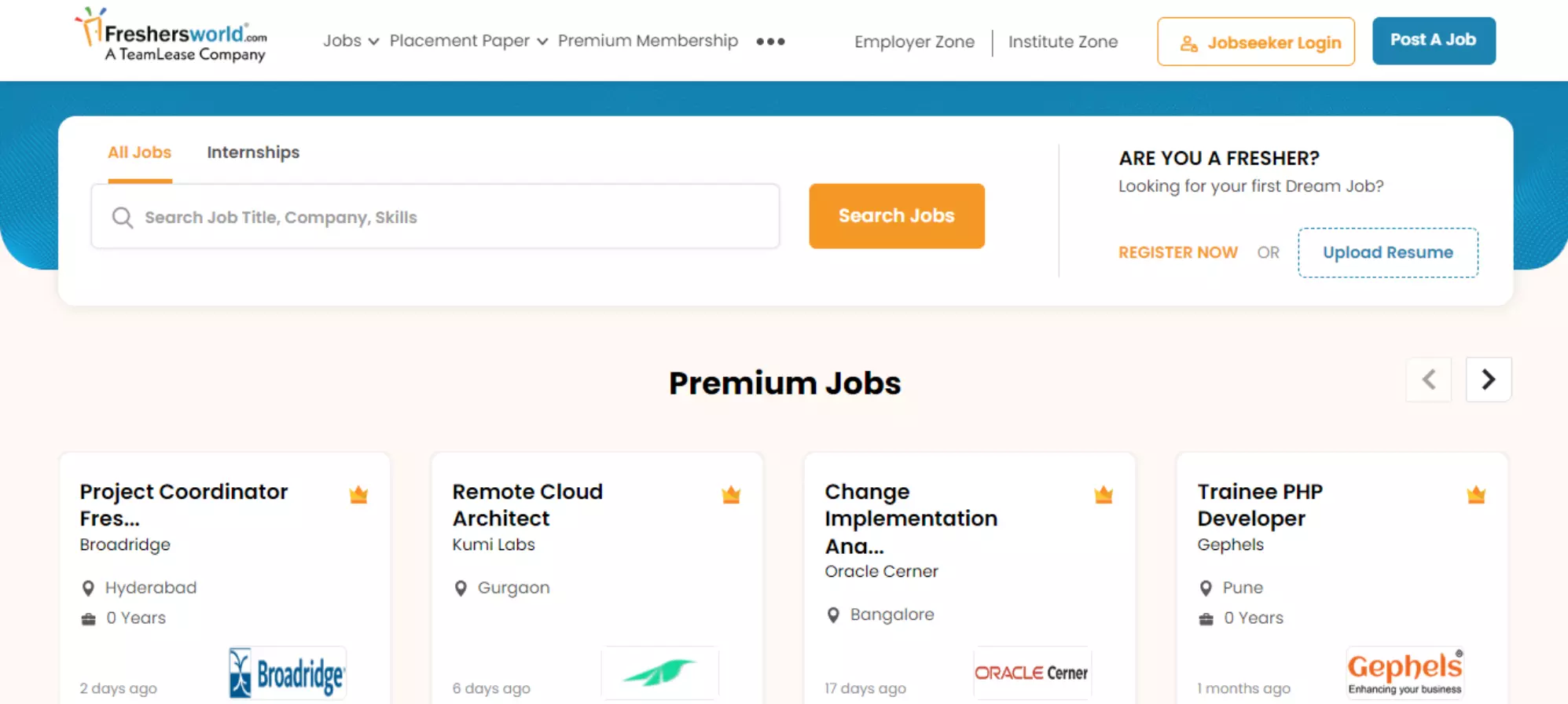 Freshers World is another niche hiring platform aimed at freshers or newly graduated candidates who do not have any work experience.
Similar to Jobs For Her, Freshers World also provides courses for job vacancies, upskilling the candidates to better equip them for the corporate world and entry-level jobs.
Since Freshers World provides job opportunities for freshers, it consists of entry-level positions primarily.
As a result, it provides many resources for them such as placement papers, interview preparation, aptitude preparation, courses, and more.
▸ Key Features:
Fresher-centric Job Portal
Upskilling Resources
Entry-level Positions
Also Read:
Summary
Job portal in India has become an essential part of the modern job-hunting and hiring process. Candidates can use these popular job portals apart from the company pages, to land their dream job as they provide the option to filter the parameters to find the exact position that the candidate is looking for.
The 10 best job portals, that we discussed so far have other features to help the candidate in their job search, such as job boards, job alerts, artificial intelligence, targeted organization, career enrichment, etc. As a result, we have included them in this list of the top job portals in India.