Reading Time:
4
minutes
The festive season is knocking at our door! The world is preparing to celebrate Christmas 2022! A pleasant mood and positive Christmas vibes refresh everyone's mind. People enjoy fine delicacies by inviting friends and relatives, exchanging gifts, baking, decorating homes, streets or places, etc. This is the time to express love and gratitude.
As much as Christmas décor is essential for the family congregation, At Christmas, office decoration is also crucial in the Workplace for enhancing employee engagement. Some creative Christmas decorating ideas, inspiring fun contests, or special suppers must inspire the employees and make them feel happy and more engaged and productive.
Now you are thinking about some innovative planning for Christmas or googling "the best office Christmas decor ideas for 2022" but could not find anything expected. However, buying good gifts for Christmas is a bit challenging and time-consuming, even though you may not meet your expectations.
This article will explain the best office design ideas and the right ways for office Christmas decorations. It will range from finding the best corner for Christmas trees to ordering the best Christmas décor, as we always would like to be better than before.
Top 6 Christmas Office Decoration Ideas for Your Workplace
Some exciting decorating ideas at your Workplace motivate the employees and create a festive atmosphere in the office. But the organization must take care of the employee destruction as well. Here are the most exciting Christmas office decoration ideas; you must try them on.
Embellishing Welcome Door
This Christmas, you can embellish the welcome door with colourful medleys, including bright baubles, a giant snowman, stars & snowflakes, and ornamented Christmas tree. You can also place a small table beside the welcome door holding the cake and décor.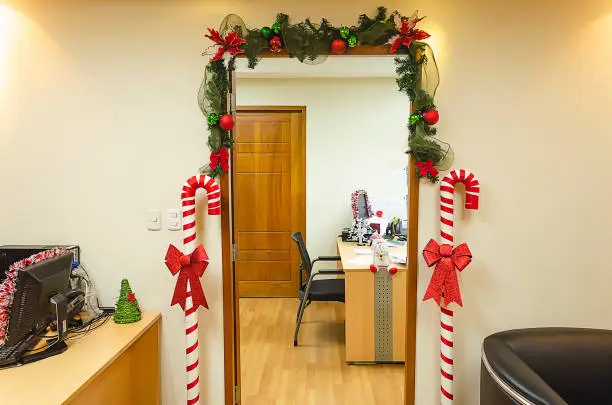 Appealing Front Desk
An attractive front desk can be more appealing to your employees. Decorate your office front desk with red flowers or multi-coloured Christmas boots, lights, and many more. You can gift small, heart-warming presents like cupcakes, mini Santa, or pine trees at every employee log-in time.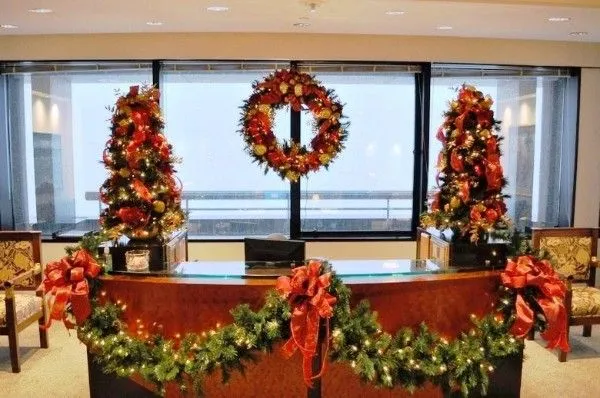 Interesting Santa Chair
Employees can makeover their everyday chairs into attractive Santa chairs. It would be one of the most exciting ideas for employee ecstasy. A Santa chair decoration competition can be a good option if you plan something more exciting.
Also Read: What do the Navratri Colours Signify for Employees of an Organisation?
Mesmerizing Cubicle Decorations
Cubicle decoration is the most exciting event in the workplace Christmas celebration.
Cubicles can be dressed up with a polar express this Christmas. Some additional Christmas colours like red, green, and white ribbons can be added to make them more glorifying.
Or you can design your cubicle with pine trees, red ribbons, snowmen, sparkling stars and balls, Santa, and more, or fire up your cubicle corners in the innovative firewood space or craft the colleague's names and hang them as Christmas socks just upside of the area.
Compelling Cabin Decoration
Nothing will be more glorious in the spirit of Christmas than the strands of brightly coloured lights, big-sized ornamented Christmas trees, colourful Christmas balls, big-fat Santa, etc.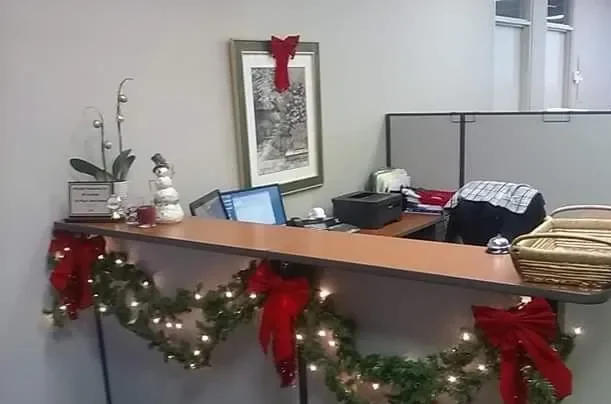 Brightly coloured white bulbs or some colourful lights with colourful decorations will help you add a subtle glow to brighten up the area around the cabin.
Appetizing Pantry Decoration
Pantry Decoration is an extra add-on for your employee happiness. Prepare dessert stalls in your pantry, like a cupcake corner and gingerbread arcade. And decorate the place with red and white candy canes, unique snowflake stickers, and many more.
This idea is more mesmerizing than that of distributing sweets between cubicles.
Christmas Decorative Articles that you must try at your Workplace
Christmas Banners
A colourful Christmas banner is the simplest and most attractive option to get people's attention. A graceful banner is a show of celebration. Hanging banners with the word "Merry Christmas" must cheer up the mood of employees.
Christmas Boots
Colourful Christmas boots are one of the best and most unique Christmas décors that must boost the workplace Christmas spirit. You can arrange boot crafting competitions amongst employees, which must affect employee engagement and company productivity.
Colourful Hanging
Dazzling Red or stunning green colours is the most common on Christmas. Decoration with some colourful hanging objects like bells, baubles, or other Christmas ornaments is the perfect idea for tempting the lovely mood of employees. Undoubtedly, some colourful hanging transforms your dull Workplace into a visually appealing and stylish atmosphere.
Paper Santa
A Santa decoration is quite mandatory for this festive decoration. It can be a big Santa or a paper Santa as well. The office can organize a Santa-making contest to encourage the employees and boost the Christmas vibes.
Candy Canes
Hanging red and white candy canes would be a simple yet attractive Christmas decoration. You can hang some red and white candy canes from the ceiling to create festive vines and a festive vibe.
Snowman
Who doesn't love to make a snowman? Even if the original snowman is impossible, employees must be excited to construct paper snowmen. You can craft a giant snowman and place it beside the cubicle or plan a snowman-making contest amongst cubicles. It will undoubtedly grab the attention of others.
Christmas Trees
A traditional Christmas tree is one of the best Christmas chirms during the festive season. A Christmas tree with a Santa cherishes the Christmas vibes, whether the office decoration, home, or street decoration. Instead of the natural pine tree, an artificial tree is used for Christmas decoration.
At the End
Make it a count that the Christmas theme can be counted throughout the entire office space, even don't miss the place like the canteen or restroom. With an outstanding arrangement of Christmas events, organization can win employee engagement that lifts up the employee spirits and company productivity.