Reading Time:
6
minutes
Running a restaurant successfully is a real challenge in a fast-paced environment. No restaurant can become successful without the brilliance of its employees as they directly deal with the customers.
Restaurant employees generally do not have specific working hours. It varies with places, seasons, people's food habits, etc. Like in every restaurant, employees work extra hours or take huge workloads during the festive seasons for customer satisfaction or dealing with random late evening delivery orders.
Thus, it is challenging for the restaurant authorities to handle the entire employee management system, such as training new joiners, tracking employee performance, handling payroll and tips, or managing the complete employee management process.
With HR team, the restaurants can easily manage everyday restaurant practices such as recruitment of quality candidates, tracking employee performance, monitoring food safety, and supervising food-handling regulations. HR expertise and their acquaintance with food industry practices and customer experience create a pathway to restaurant success.
Also Read: Upcoming Trends in Employee Engagement in 2023
What are HR Practices?
HR practices are the universal principles used by human resources that streamline business performance regardless of which sector you are working with.
Importance of HR Team in your Restaurant Business
Nowadays, HR practices are essential as the restaurant sector focuses on attracting customers and offering them healthy and delicious food. It is the only key to keep ranking high over competitors as well, although it reflects as an additional cost for the business.
Moreover, the employee management system becomes more accessible when a restaurant sets up a human resource department; they do not need to consider the entire employee management anymore.
Let us explore the benefit of having human resource practice a little more.
Hiring and Onboarding of New Employees
In the restaurant industry, there are numerous departments like kitchen staff, managerial staff, floor staff, bartenders, delivery staff and more. Each department's duties and responsibilities vary depending on the restaurant's rules and regulations.
Thus, the restaurant industry's HR tasks are unique and more challenging than others. Here, HR plays an efficient role in hiring quality cook and other knowledgeable staff familiar with handling restaurant tasks fairly. Quality employees lead to more customer engagement, thus increasing productivity.
What are HRs' primary roles and responsibilities while hiring employees?
Searching for categorised departments
Creating relevant job descriptions
Advertising openings on related portals
Conducting interviews and onboarding
Training on workplace policies and etc.
Advocating Employees Need
Having a comfortable or cosy place is not only enough to attract customers. It is the most essential to serve tasty food for them. So, retaining quality staff is the key to gaining more business productivity. To satisfy customer engagement, you should consider employees' needs and advocate for them.
The HR team can easily take responsibility by hearing their employees. HR takes care of employees' day-to-day or long-term grievances and other issues like joining concerns, on-time onboarding, smooth offboarding, etc.
In the restaurant industry, there is no selective work duration. Often, employees get tired and bored or face issues like workplace politics or harassment. A dedicated HR team is essential for maintaining a positive work environment by creating a leisured work schedule, upholding employee relationships, bifurcating responsibilities, etc.
HR team members may find themselves advocating for employees' needs, including:
Supporting employees with professional development and training programs
Delivering training on food safety and security and rest workplace regulation
Listening to and supporting employees in their physical and mental health
Communicating the intricacies of healthcare and childcare plans.
Training New Employees
Providing training on restaurant rules and regulation is crucial for every new joiner. Proper training offers innovative ways of employee understanding, enhancing staff communication, improve self-esteem, etc. Talking to new joiners, discussing the work ambience, and making them aware of the types of work they are starting to do are a part of the HR duties. Understanding the sector's policies help them quickly become comfortable in their workplace. They can easily build a relationship with existing employees and engage quickly with their company.
Scheduling
Scheduling is more critical in restaurant industries than that in other sectors. After all, working in a restaurant is not a 9-to-5 job. Some restaurants are open 24/7. Hence, balancing employees' shifts correctly while ensuring the restaurant is fully staffed is a challenging responsibility. To ease the scheduling burden off the shoulder, it is essential to onboard the employees effectively at your workplace. HRs can easily take responsibility for arranging the entire schedule more accurately. It results in employees' less workload and more transparency among them. This leads to employee engagement and company productivity.
Calculating Accurate Payroll
Scheduling staff's shift is often confusing, but calculating their payroll on daily duty time and overtime, providing increments by appraising their performance, is tougher. HRs undertake the responsibility for salary segregation correctly and ensure that staff get their tips appropriately. They also take care of every employee's taxes, benefits, and loans.
Any restaurant with more than 50 people falls under the Affordable Care Act, which claims to provide health insurance to each staff member. If they have their HR team, then the authority need not think about the entire payroll management system, including salary, compensation, tax, benefits, loan, and even insurance.
What kind of responsibility does the restaurant HR team yield?
Strengthen compensation strategies
Confirming to pay employees fairly on time
Clarifying benefits packages
Handling benefits during open enrolment
Also Read: Pocket HRMS – Payroll Made Easy for Restaurants
Settling Compensation and Benefits
Restaurant staff always enjoy the compensation or benefits for working extra hours or serving some fantastic dishes to customers. But often, it becomes confusing for organisations to analyse every staff tip or benefit. HR strategies the entire process accurately so that employees don't face any mismanagement in wages or errors in payroll. HR maintains a good balance between employers and employees. They negotiate group health plan rates and monitor retirement savings programs and benefits.
Compliance
All the restaurant industries require hands-on knowledge of food safety protocols and hygiene measures. Like the Fair Labor Standards Act, restaurant compliance governs minimum wages and overtime pay. Some restaurants also follow the FLSA violation law, where staff can complain about long working hours and low wages for restaurant workers, etc. HR also confirms the restaurant complies with other states' fair employment performance.
7 Top Advantages of HRs' Best Practices for Restaurants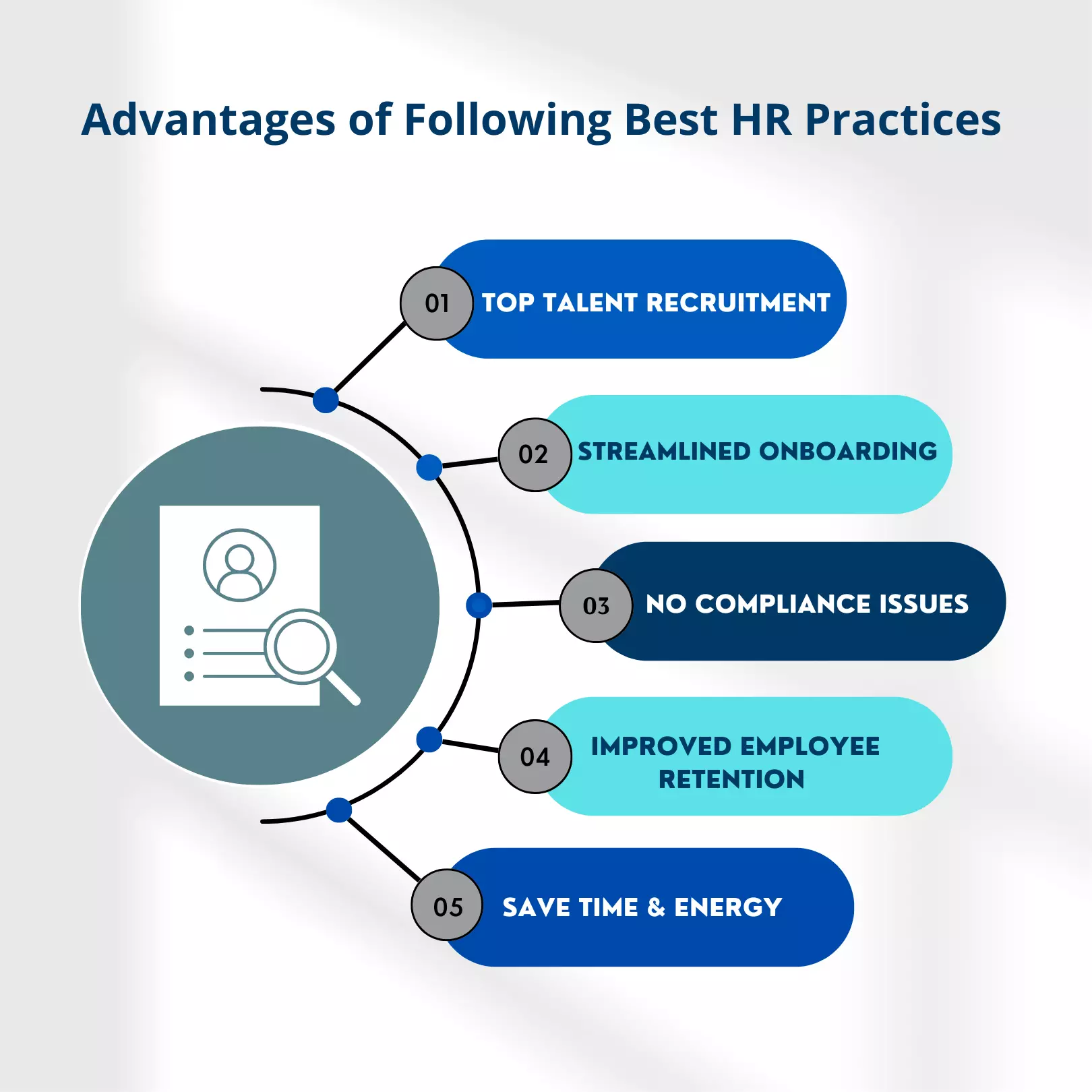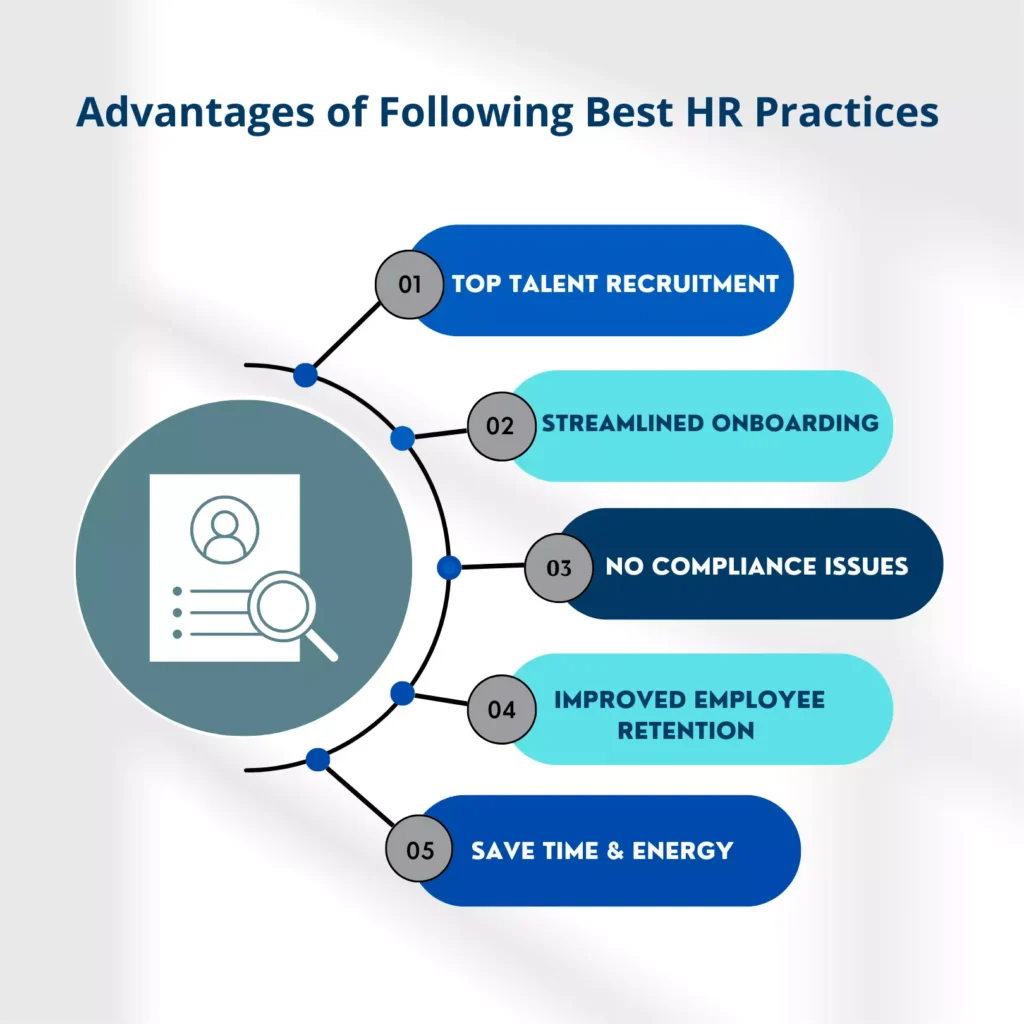 Thinking about the best HR practices for restaurants, we are listing the top 7 advantages of having a human resource for your business and seeing how they improve employee engagement, retention, and more. After all, employees' engagement and excellent performance result in customer attraction.
Hiring Top Talent
Recruiting quality staff is challenging for the restaurant sector as the organisation has to follow certain specifications. HR leverage the entire hiring process. They apply the right strategies in searching for quality candidates and conduct streamlined interviews and onboard operations. So that restaurant need not lose quality staff for the restaurant.
Also Read: 4 Quick Ways to Reach Out and Recruit the Best Talent
Streamlined Onboarding
Though selecting quality staff, you are afraid that the staff will choose you! With an onboarding process, you can show them why your organisation is the best for the new joiner. By working with HR, you'll have a time-tested onboarding procedure—so your new joiner can hit the ground running.
Improve Employee Retention
Why does employee turnover a company? The answer is simple: extended hour duty, less pay, micromanagement, No leave policy, etc. A complete HR practices strategy streamlines the entire employee management process. So that every employee enjoys their work seamlessly without thinking of their salary and increment.
No Compliance Issue
Numerous rules on food safety and security or restaurant policies are potentially handled by the company. Often management cannot be updated with new food policies or all the applicable rules and regulations. Here the restaurant sector must require the HR department to comply with the entire compliance process. HRs are responsible for implementing the fundamental rule and regulation process that impacts the employee and employer relationship.
Efficient Cloud HR Software
What else could be more effective than having a handy HR application? A cloud-based HRMS is just a unique software that stores numerous data on a single database. So, there is no need to store employee data, generate salary slips, or arrange increments and benefits manually. With cloud HR software, restaurants can utilise advanced technologies like AI and ML to automate all HR team's administrative tasks and effectively engage their workers.
Save Time and Energy
A restaurant is committed to serving good food and creating a positive ambience. And it is their first priority. So simultaneously maintaining the entire employee management system is pretty challenging. An HR department or effective HR software supports all the HR team's administrative work, so that organisation can focus on building better customer relationships.
Summary
Restaurant HR practices don't have any particular limitations or boundaries to update employees. It includes creative approaches that make a restaurant or restaurant group stand out to the target audience. A good HR team listens to staff to determine their requirements and simultaneously takes care of the organisation's needs. As in the restaurant business, employee satisfaction reflects on good food and fine dining, leading to customer engagement and company productivity.