Reading Time:
6
minutes
For a business, risks come in diverse forms. Nevertheless, risk mitigation becomes an exciting topic when it comes to HR. A fine example of this can be seen in screening and recruitment of candidates – we often ensure that we have unbiased and robust hiring processes to curb the risks of making a bad hire.
Now just think of the impact on organisational performance, team, individual, workplace culture, turnover and diversity. This is just one example. Think of all the procedures and policies that are in place to manage workplace risks.
Let's delve deeper to uproot some of the key HR risks for a workplace. Here are few where HR plays a pivotal role in mitigating and safeguarding any collateral damage to the business.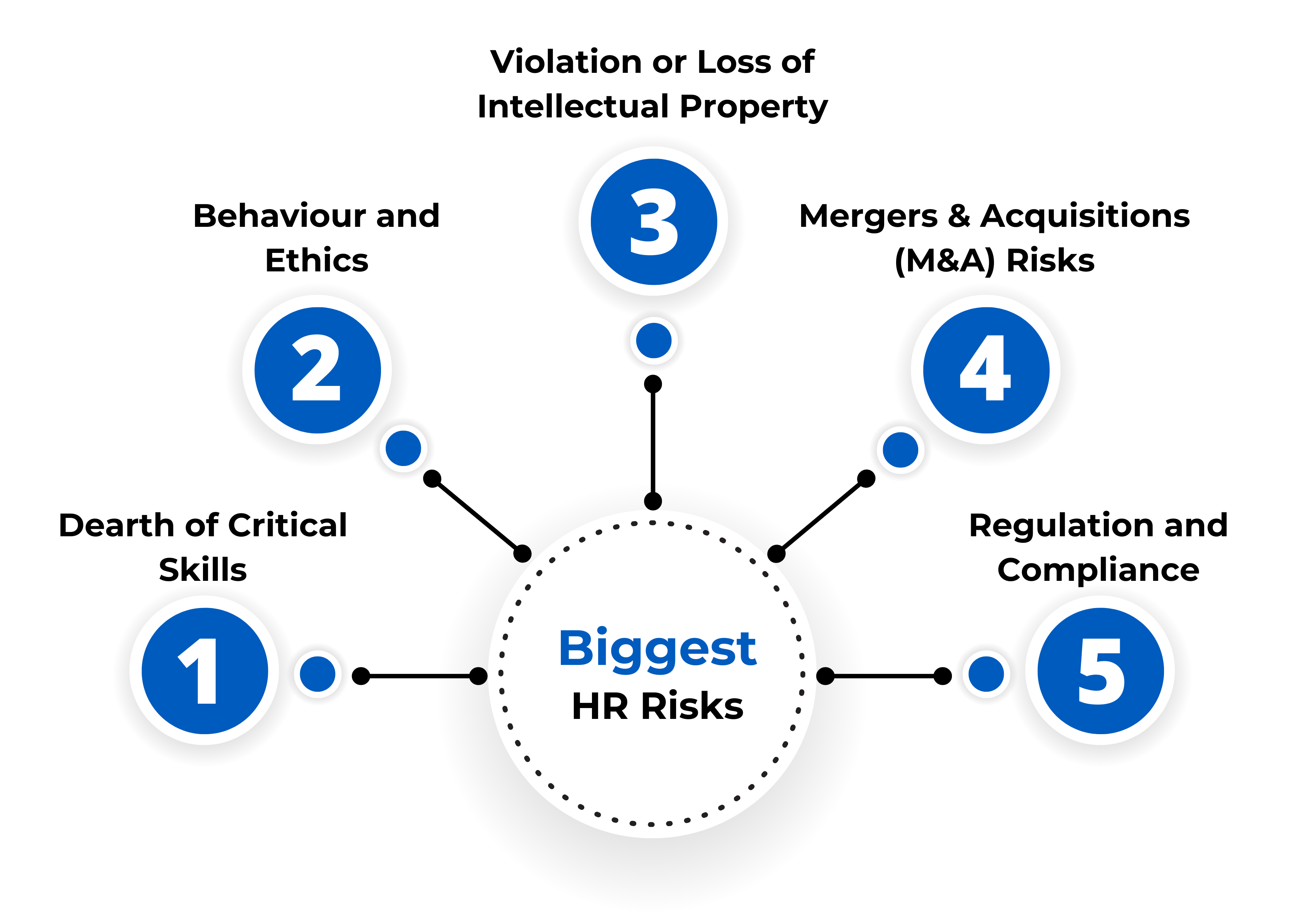 1. Dearth of Critical Skills
Not having the right talent with the right expertise and proficiency required to compete, grow or innovate can severely hamper a company's future.
These are stuffs that HRs do all the day. In fact, it's their bread and butter. HR department is the one that looks after workplace planning when it comes to risk management. Nevertheless, there is a growing need to render that to the rest of the organisation as well.
HRs need to gather data and analyse to build a convincing case for adding it to the company's risk map. Also, it is advisable to focus on getting the same on the organisation's agenda, if not already.
2. Behaviour and Ethics
Hardly a day goes by without another business hitting the news headlines for all wrong reasons. A lot of scandals that we see or hear originate from some or the other unethical behaviour.
According to business experts, the topmost risk for a business is ethical violation. In fact, reports show that ethical violations are the most challenging to deal with in terms of brand damage.
This is the reason why HR ought to nurture a work culture that encourages ethical behaviour. Simply put, it's all about doing things the right way. Don't forget that any brand or reputation damage could also impact employee engagement, retention and recruitment negatively.
Here, it is advisable to draft a code of conduct followed by establishing an ethics panel or community in the organisation.
3. Violation or Loss of Intellectual Property
If your business deals with customer information, then losing data by your employees is something that can drown your business. Cases of data loss have witnessed a steep surge in the last decade than ever. Remember that customer data is irreplaceable as well as highly sensitive thus, demanding extreme caution.
If your employees are responsible for handling sensitive data, then HR ought to ensure that employees are engaged in the same via giving them training and proper induction. Further, it is also expected from the HR to make sure that they don't hire a potential fraudster.
4. Mergers & Acquisitions (M&A) Risks
Yes, mergers & acquisitions bring in a fistful of problems especially in terms of employees. This is certainly of great importance especially for a service-oriented firm where human capital is almost everything. This is one of the key reasons a CEO should never ignore employee feedbacks during M&A.
Lot of risks pertaining to M&A can backfire to HR in the long-run. Any risks or threats related to employment law, diligence, etc., would bounce back at the human resource department.
However, one cannot neglect other concerns such as ensuring that the newly hired people feel engaged and cared, induction and training programmes are executed appropriately etc. ought to be taken into consideration as well.
5. Regulation and Compliance
Violating any regulatory or statutory compliance could cost your entire business. Again, it all comes down to processes and policies.
Human resource department is accountable to work in tandem with the compliance people to ensure that every employee in the organisation is well-versed of all the potential risks of a statutory compliance breach.
Thus, ensure that your training modules and programmes entail adequate and necessary information on compliance related issues.
7 HR Risk Management Techniques
▸HR Risk Mitigation Checklist
The HR risk management team should prepare a risk mitigation checklist so as to ensure that all the potential contingent risks are covered under it and that the list will be considered while framing strategies for risk management.
This ensures the inclusion of all the possible risk in a single place to be considered without being ignored by the management.
▸Complying with Rules and Regulations
It is essentially important for the Organization and management to comply with internal as well as external rules and policies.
Internal compliances include the rules and norms framed by the organization for the betterment of workflow and to avoid internal conflicts among the employees, trade unions and all the issues associated with the organization internally.
External compliances are the norms laid down by the government with the intention to preserve organization, public as well as environmental interests.
So, it is vital for HR risk management to ensure smooth compliance with all the rules, regulations, policies and procedures for a streamlined business workflow.
▸Develop Risk management Strategy
This is crucial pre requisite if you intend to handle the risks and threat at workplace. To deal with the unforeseen as well as identified risk, there need to be a framed strategical risk management plan.
Readiness before an unforeseen circumstance is always a good idea for the health of the organization.
It not only serves as an antidote for tackling issues but also initiates the preparedness that you need to handle future risks that are hazardous for your organization.
▸Stay Updated with the Legal Guidelines
Another important technique that would help you in risk management includes staying updated with the changes and current legal guidelines associated with the organization.
Legal guidelines regarding health and hazard handling, Human resource risk management guidelines and more, which have the potential of legal suing if not pursued.
so, risk management techniques are inclusive of staying updated with the legal guidelines and adapting to the alterations made thereby.
▸Initiate Training
Train the managers, new joinee, and other employees regarding the policies and procedures so that they abide by every policy for their own safety as well as to keep away from legal issues and conflicts.
Training programs provide assistance in tackling and dealing with various organizational requisites. Every company has its own policies and requirements so it is extremely important for your HR risk management to initiate training/workshop sessions and access the efficiency of the same.
A perfectly trained employee yields productivity and lessens the chances of speculation and risk.
▸Respond to Significant Circumstances
HR risk management is the major element to be handled with utmost caution and vigilance which demands quick responses to situations so as to avoid delay.
A delay in circumstance might end up the company in greater risk or hazard so it is always advisable to deal with the situation in the immediate present.
In addition, flexibility and scalability in plans are crucial prerequisites that are expected from the risk management team to deal with risk and contingency of risk in the near future.
▸Monitoring & Evaluation
The risk management plan/technique involves constant monitoring and evaluation of the framed strategies to keep up with the business uncertainties and the risk associated with them.
Monitoring and evaluation of policies and rules are also crucial as the businesses are subject to market risks and changes. The HR risk management team should be able to access/evaluate the running policies and if it is effectively working on neutralizing the risks or not so as to make alterations as needed.
▸Quick action
It is always advisable to take action 'before the ink dry' . Quick actions on the situations can help an organization prevent undesirable risky consequences and maintain a neutralized workplace ecosystem.
In addition, quick actions are derived from proper strategical planning so it is essential for the HR risk management team to craft the risk management plan with caution and approximacy.
▸Review
Last but not least, Reviewing the risk management plan formulated is indispensable by the HR risk management team to make changes according to the requirement of the situations prevailing in the workplace ecosystem.
Closing the Curtains
All in all, the focus ought to be on the HR strategy. Understand that we are witnessing a volatile and ambiguous business ecosystem that is undergoing changes at the speed of light.
Thus, it is important that human resource people and businesses keep abreast with all the changes and revive their HR strategy on a periodic basis to keep up with the fast-moving business ecosystem.
To uncover one among the many ways to help keep a check on HR & statutory compliance for your business, click here. You can also give us a shout-out at Twitter and Facebook or write to us at sales@pockethrms.com.